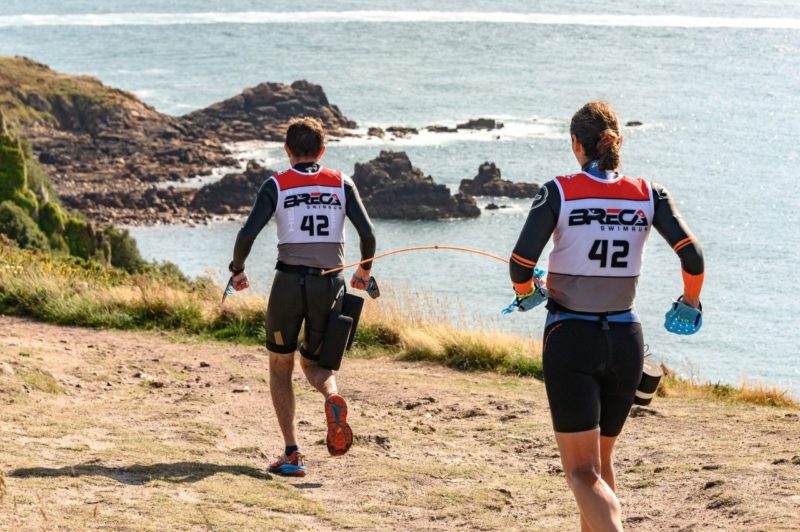 Latest posts by Jason @EtchRock
(see all)
Knowing or deciding what to wear on a swimrun can be a surprisingly difficult topic, especially if it's your first swim run event. It's arguably the second most important thing, right up there with choosing the perfect partner to tackle the event with, so make sure to spend some time choosing what to wear and making sure you're happy you've got the right kit. Get this wrong, and your fun day out could turn into a miserable one. Try not to rely on your partner when making this choice, as what works for them may not for you, and after all – you'll be relying on them enough on the day! We caught up with our friends over at Breca Swimrun to learn more about what you'll need on the day.
Wetsuit
Wearing a wetsuit is a mandatory requirement for most swimrun races so it's really important you're happy with your choice. Just keep in mind you'll be wearing it for the whole race, unlike a Triathlon where it's just the swim at the start. You can wear any Tri wetsuit, but investing in a specific swimrun wetsuit will pay dividends. Most Tri wetsuits have a back zip, whereas swimrun wetsuits have a front zip which will allow you to constantly regulate your temperature throughout the race. Swimruns are usually cold in the water and hot on the runs, so allowing yourself to easily adjust your wetsuit throughout the race will help more than you can imagine.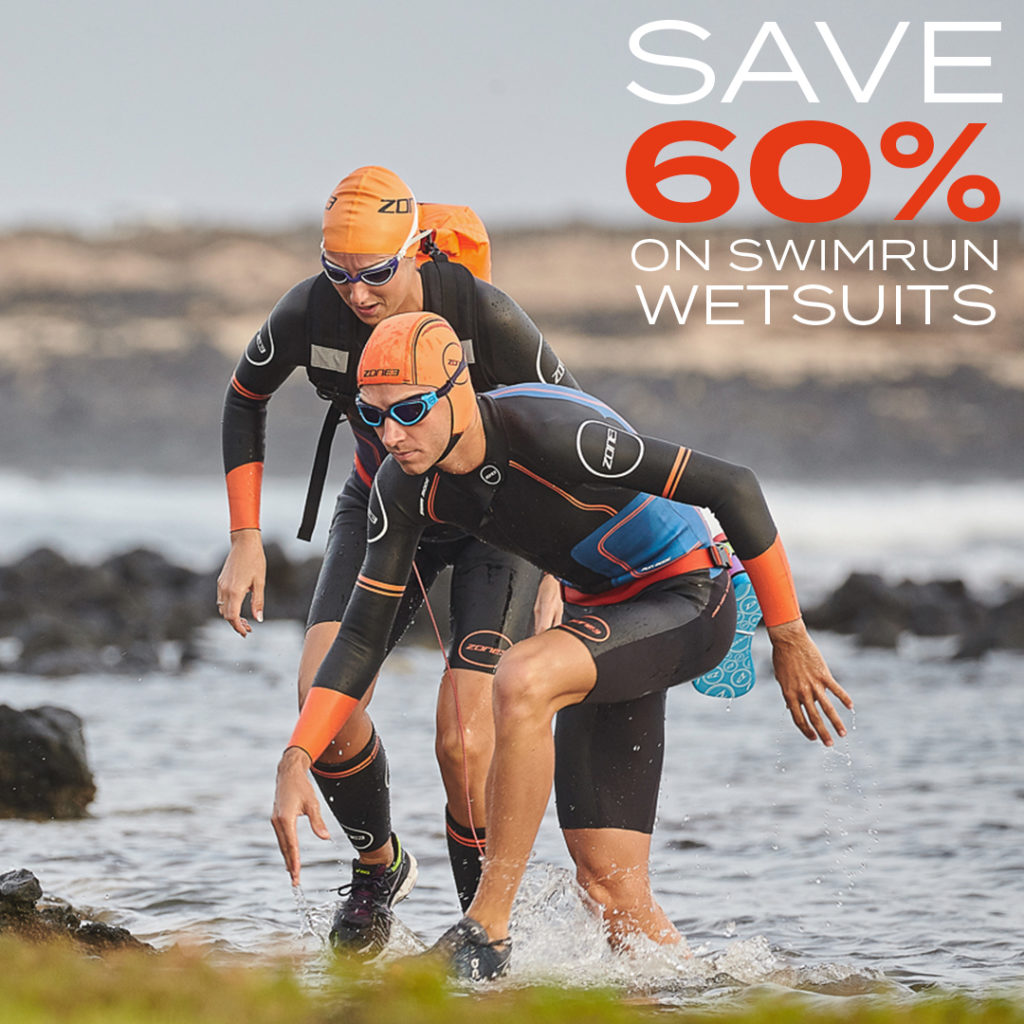 Goggles
This might seem like an obvious one, but goggles are a must have for any swimrun event. You'll need them for sighting in open water and having clear vision. If the water's cold, a pair of googles will really help by protecting your eyes from the cool temperature. If you're new to swimming in goggles, the number one piece of advice is to test them well before hand – if you can, in open water. Trust me when I say there is nothing worse than leaky goggles, you'll just end up ripping them off (as I have) and swimming without them. Better still, take a second pair as a back up, just in case!
Swim cap
Most swimrun events will provide these, but if they don't, it's nice to have your own. Don't forget they come in different sizes and materials so yes you guessed it, trying yours out ahead of race day is key. Also keep in mind that the brighter the colour, the more visible you'll be – particularly  important for being spotted by boats and any other traffic on the water. This also goes for the wetsuit.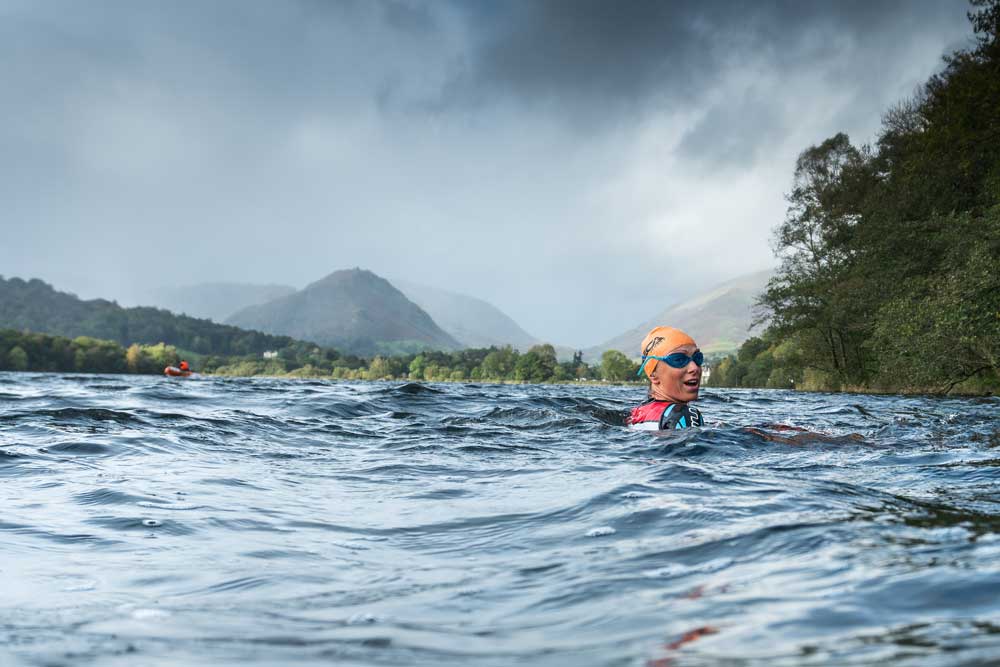 Trainers
As with all your other gear, your trainers will be worn all the way through the swimrun. You'll need to run a long way in them, as well as scramble over rocks as you get in and out of the water. Try and pick a pair that will drain quickly and not carry water once you're into the run. As a tip, you can drill holes in the soles so they don't hold water. If you're just starting out, look at trail running shoes which are designed for running over rough and boggy terrain.
Hand Paddles
Arguably one of the most popular pieces of equipment for swimruns, hand paddles are really beneficial accessories in the water and are not a hindrance during the race (as some may initially think). In cold water swims, when your hands are weaker, you'll still be able to paddle the same amount of water. They do require good technique, so you need to train with them before taking on an event. Also make sure you choose the right size in order to move as much water as possible, without injuring yourself or causing excessive fatigue.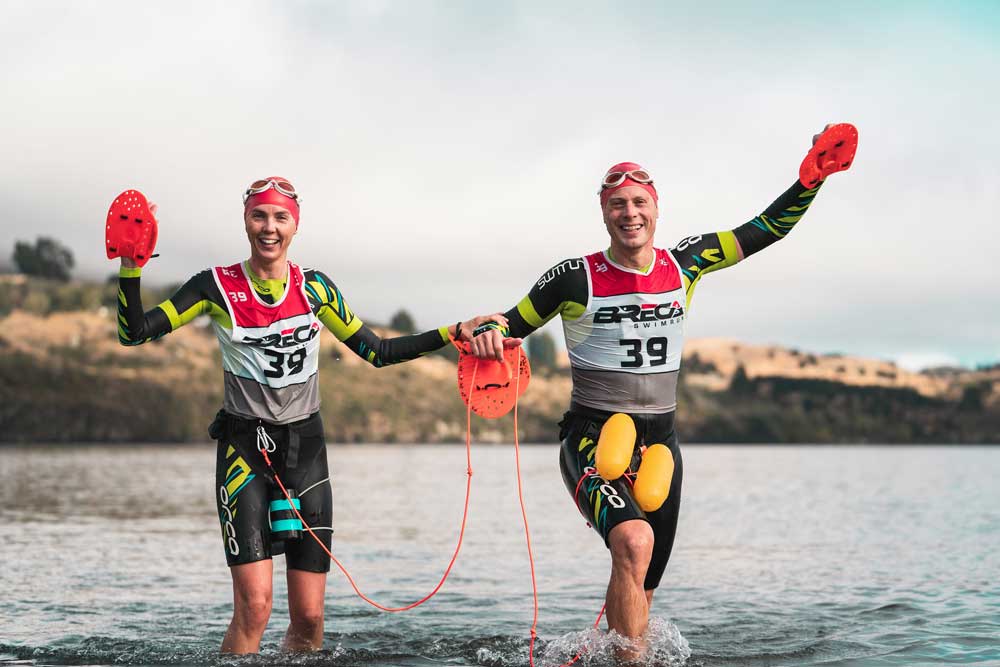 Gloves
If you're taking on a swimrun in really cold water, or a particularly long swim, then you might want to consider wearing neoprene gloves. Like all your gear, you'll want to try them out to make sure you're comfortable swimming with them. They come in different thicknesses and you can also get webbed gloves for swimming as well if you'd prefer to go without hand paddles.
Tow line
The swimrun tow line can be used for several things throughout a race. It's most commonly used in the water with the stronger swimmer of the team attaching the tow rope to the BACK of their suit, and the weaker swimmer then attaching the tow rope to the FRONT of their suit. The stronger swimmer then leads the team, with the weaker swimmer swimming directly behind. By doing this, the weaker swimmer gets a slight tow and benefits from slip-streaming directly behind the leading swimmer. This might sound odd, but when done properly, neither of the swimmers will notice much of a difference – it's not like towing a dead weight!
Some swim runners use a tow rope for the runs as well if one of the team is a noticeably stronger runner. In these cases, the same principle applies to both the swimming and the running.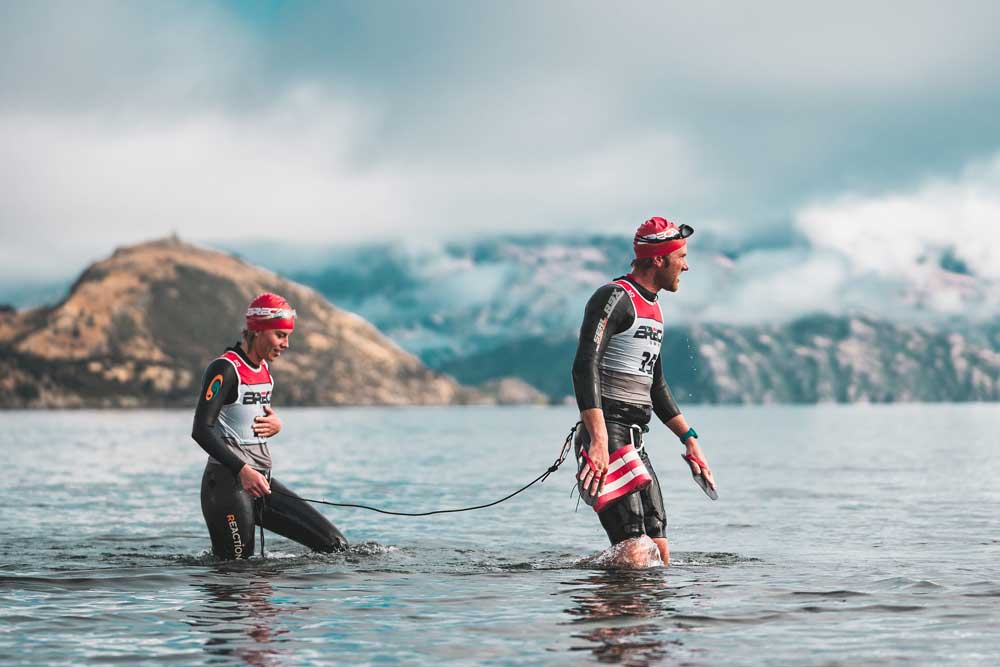 Tow float
Tow floats are a great safety device for swim runners as they improve your visibility and offer buoyant support should you need to rest or require assistance. They are also great for training alone as they offer security as well as a handy place to store food, drinks and other small items such as your phone.
Swim Fins
If you don't fancy swimming in your shoes then swim fins are a great option to help you in the water. You'll be slightly slower in and out of the water but will probably make up the time in the water. Here are some by Zone3.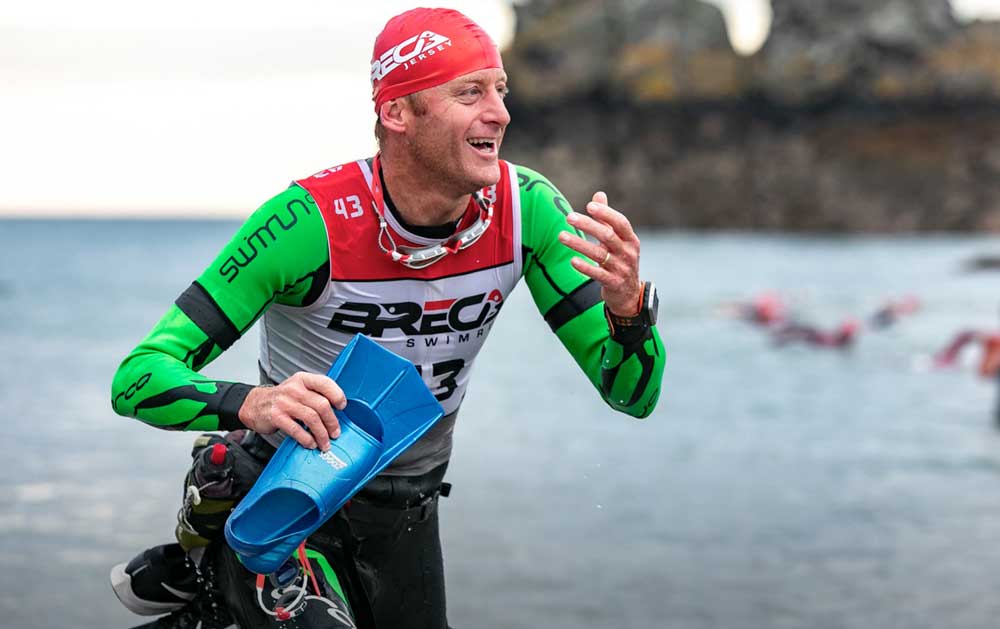 Pull buoy
A pull buoy is a small float that if you decide to swim wearing your trainers rather than carrying them you might want to consider using. With powerful buoyancy, it encourages a streamlined body position in the water and keeps your core stable, while saving some much needed energy in your legs. This option compensates for the loss of speed caused by wearing your shoes and it can be easily transported while running so isn't a hindrance. Pull buoys are why swim runners decided to use hand paddles which provides extra propulsion making up for the loss of power from the kick. 

Bag/hydration pack
If you're not using a tow float but want to carry some essential items, then you may opt for a small running bag or hydration pack. You'll definitely want to get some time to practice swimming with the bag to make sure you're happy with it and it doesn't restrict your swim.
Safety Kit
An essential bit of kit for all swimrun races that will include some basic items such as a compass, map, whistle, and possibly some kind of first aid kit. I'd advise carrying a phone, some emergency food and water.
For more useful information on training tips, inspiration and latest news in the sport head over to Breca swimrun. If you're ready to embark on a crazy adventure where you'll be required to run in your wetsuit and swim in your shoes, then check out some of the best upcoming swim run events.