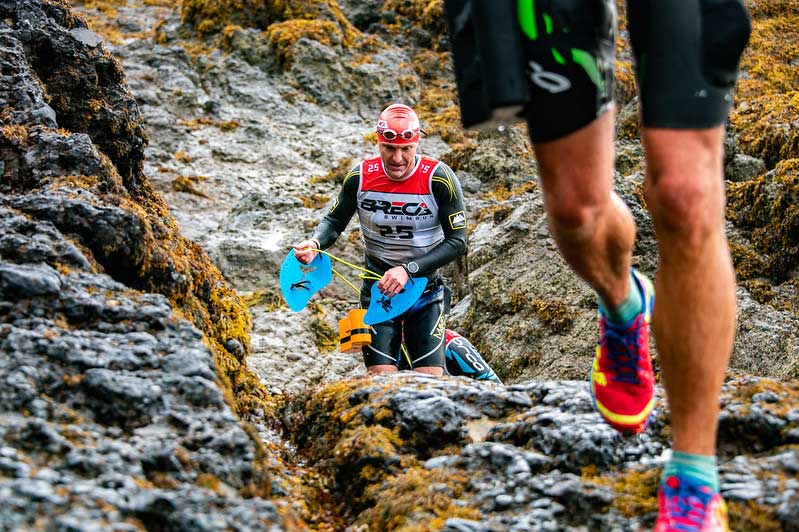 Latest posts by Jason @EtchRock
(see all)
Given the sport of swimrun's recent inception, it's no surprise that historically there have been few specific swimrun shoes on the market. More recently however, as swimrun has flourished as a sport, more brands are entering the swimrun market offering shoes with advantageous traits tailored to this offbeat sport, such as low water absorption.
Our friends over at Breca swimrun carried out a survey asking 271 athletes what their choice of swimrun shoes were and here were the top 5 trainers for swimrun in 2020.
But first what are some things to consider when looking for a good swimrun trainer? We spoke with Fred Newton from team Breca to find out…
Drainage: Starting with arguably the most important factor, considering you'll be running after swimming with them. You'll want a light weight shoe with thin fabric that doesn't hold water. This will make a world of different to your race.
Good grip: Another really important one. As you're getting out of the water, you may be scrambling over slippery rocks so you'll want a shoe with good grip. Check out these cloudventure peak trainers designed for maximum grip by On-Running.
Water resistance: As you'll have them with you in the water, whether you're swimming in them or if they're tethered to you, you'll want them to be as slim and streamlined as possible to reduce drag. Try and stay away from anything clunky. It's about finding the right balance between all these options.
Comfort: An obvious but essential one. Half the battle is getting the rest of these factors, right which will make your trainers comfortable on any race. You'll want a fairly tight fit so you don't lose them in your swim.
Lacing: You've no doubt had a lace come undone on a running race and with swimrun this can happen much more. It's worth using double knots or using locklaces. Some people tape their trainers which can help with making them more streamline.
Durability: For swimrun, you need a shoe which can take a real pounding. Fred Newton from team Breca said "If a shoe has a 300 – 500 mile typical lifespan, for swimrun, I'd say you need to look at performance reviews of trainers which are especially rugged and towards the top end of how many miles you can put through them. I'm a big fan of Inov-8 for swimrun, the grip is just insane." You can get extra durability from aggressive studs which are extremely robust and durable. Another handy tip for durability is choosing an upper mesh that is reinforced with Kevlar. 
Whatever trainers you go for, remember to try them out along with all your kit. It's no fun getting to race day and finding out something doesn't work for you. Try not to rely on others, just because something works for your friend, it doesn't mean it will work for you.