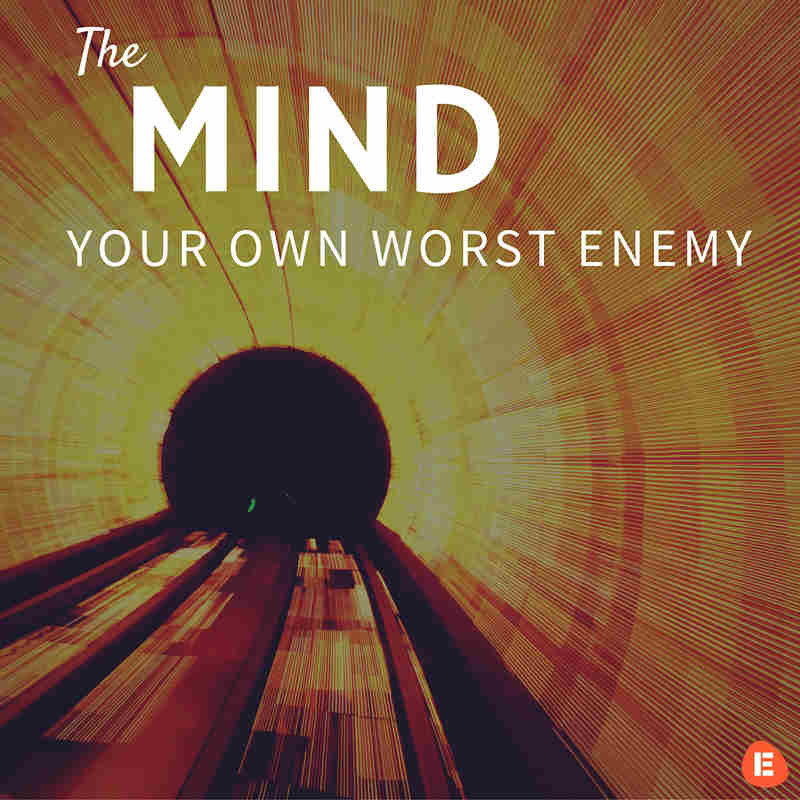 The Mind: Your Own Worst Enemy
Forget the mountain, the mind can often be the toughest thing to conquer in any type of challenge. You will often hear about the dreaded 'wall' that runners encounter on their runs. That moment when you mind says, 'Nope, not doing this anymore'. More often than not, your mind will start to give up on you well before your body will. This is nothing new and is well documented in various types of sports, endurance challenges and even military training (think special forces). You can condition your mind to ignore the pain in your legs; the heaviness in your chest and simply talk yourself into pushing yourself harder.
But what about when the tables are turned and the mind is saying yes and the body is saying no? What if you had trained for something so relentlessly and you suffer an injury on the big day? What is the cut off point where you could really do yourself some serious damage? As an endurance athlete, we condition our minds to tell ourselves, 'You can do this, you can do it!' through the expected pain and tiredness. But when does that stop? In the heat of the moment how can we know the difference between pain and injury? We recently caught up with EtchRock challenger Ben Pollard, (you can check out some of his other blogs here) and we talked about the multiple challenges that he has done this year. All his challenges were geared towards completing a 100km race recently and you guessed it, disaster struck. I was very interested about hearing about his mental state in the race, as I know how much training he had put into the event. Here's a brief rundown from Ben about how it all happened that day.
The last few months have been a really battle for myself, having spent this past year taking on obstacle races and preparing for my biggest challenge to date, the London 2 Cambridge 100km challenge. Unfortunately I had to pull out off due to injury, but learnt a valuable lesson on the way. I discovered that I am my own worse enemy sometimes in my mind. I know this because even though I knew I had badly injured my knee during the 100km challenge, I continued for a further 12km because I didn't want to fail or appear to be quitting. As I'm sure many of you know this is the worst thing to do but at the time seems like the only thing to do. After having to pull out and wait for Lewis (best support man ever) to collect me from the side of the road all I could was sit there and cry. I didn't think that I would be that emotional but found that all I could do was think about how I had let people down and that I'd failed in a monumental way. The reason I felt this bad is because our aim this year has been to raise money and awareness for Ataxia UK which is a charity that's very close to myself and my family. After the race it took a few days for me to get my head around that I hadn't finished but has still managed to complete nearly 30 miles before having to call it a day, the problem is, that you don't focus on the positive outcome you focus on the negative and this is where you become your own worse enemy. I became so down about the fact that I'd failed that it had a negative impact on my recovery because to be perfectly honest I couldn't be arsed to get back out there.
But have no fear fellow challengers I did eventually! Physio was started and this put me back on track. My physio, Hoss Sports Therapy was an absolute legend and actually really helped my fix my knee but also give me a confidence back to start training again. I was always worried that I was going to damage my knee again and this caused me to really have an anxiety about running or putting any sort of pressure on my knee. I think that my main issue throughout the whole process was that I let myself get the better of me, (if that makes any sense!). But after regaining my confidence and having a knee that is now functioning again I'm ready for my last OCR of the year at Back 2 the trenches.
A part of me thinks that maybe I had taken on too much with regards to the London 2 Cambridge challenge. These thoughts came from having to pull out which instantly makes you think did I do enough training? Was I mentally and physically prepared for the challenge? Yes is the answer, I had put in a huge amount of training all year in order to prepare for this challenge. The slip that I had caused the injury and it didn't seem relevant at the time but gradually my knee became bigger and bigger and the pain was like nothing that I had felt before. Mentally it was devastating and I the effect that it had was quite long lasting. On one hand I felt very disappointed, looking back on it now I think I was quite hard on myself which didn't help at the time but eventually I think that it worked in my favour as it made think 'Ben get your arse back out there and start again!' Which is what I did, I started from scratch, I built the strength up in my legs and got back in with my personal trainer who designed sessions around what was best for me and how I was mentally and physically at the time. I'll happily admit that it was tough, I found it very difficult to get myself back in a frame of mind that was confident enough to start training again. Also, I did struggle to get my head around the fact that I had failed to complete the challenge. I am now taking the positives and using that as a foundation to start again and also to keep me moving onwards and upwards to whatever challenges lie ahead.

I can easily relate to what Ben is saying about suffering the injury, you get flashbacks about how hard you trained, everything that you went through and the reasons you are running and it's hard not to beat yourself up. Hell, if I roll an ankle when running I get a bit emotional even if it doesn't hurt! When something you have trained for so hard gets taken away from you, from a factor you can't control like an injury, you feel helpless. This is where you really have to be realistic with yourself and pull yourself from the activity before doing further damage.
The issue is knowing when to stop. My coach always used to tell me there is a difference between being hurt and being injured. You can play through being hurt, but if it is an injury, get out quick. The mind makes that a little tricky sometimes, especially when you condition it to ignore pain and suffering and are competing for more than yourself. The challenge really lies in keeping that harmony between mind and body balanced, don't let one take over the other or you could be in for a let down. So don't worry Ben, chin up, its the journey that we look back on, not the finish line. There will be plenty more chances to prove yourself!
If you have witnessed something similar when competing in a challenge, let us know on our Facebook or Twitter page and tell us what happened! You can reach Ben on his Twitter page if you would like to find out more about his challenges
Visit EtchRock.com to get started and find your next challenge!
Team Etchrock