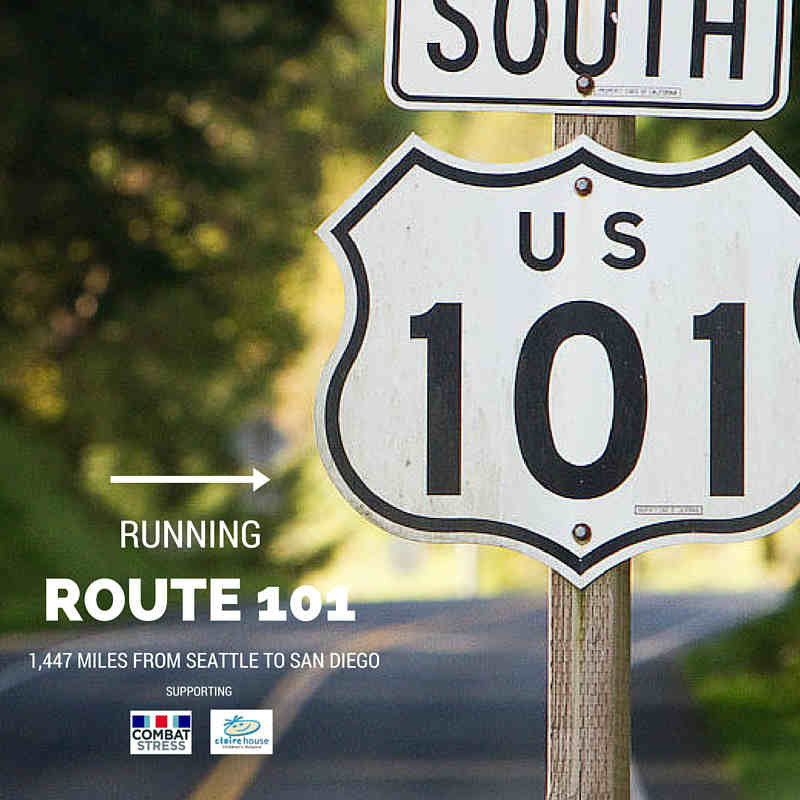 Running Route 101 – From Seattle to San Diego
In todays #TrueChallengers blog series, we got the chance to chat to Stuart Repon-Ness who is currently training to run the entire west coast of America in August. His route will take him from Seattle, Washington all the way down to San Diego, California in 45 days or less. The route will take in most of highway 101 and take him over the hills of Washington, across the plains of Oregon and all the way through the diverse terrain of California. Stuart will cover around 30 miles a day on his trip and is running completely unsupported. We got the chance to have a chat with Stuart about his upcoming challenge and here is what he had to say.
So we have got to start off with this question, Route 101, where did the idea come from?
Haha.. I have always wanted to do an ultra endurance challenge and I originally looked at he East coast, being a Vegan runner, I watched Scott Jurek smash the East Coast apachilian Trail (Georgia to Maine) world record and thought, well, He has done the East Coast… Why not I do the West!  I am a warmer climate type of guy too so the heat definitely attracted me to running the west coast.. Hwy 101 was actually just the easiest route I could find that ran along the coast for pretty much the majority of the distance. Once I had found out I could run along it, it was a done deal!
Where did your love of endurance challenges begin?
Actually, My love of the trails and endurance began in the British Forces many moons ago!

Is this your biggest challenge yet, can you tell us a little more about it and where you will run through?
Yes.. This is most definitely my biggest challenge to date! I have never attempted anything to this scale! I will start in Seattle on 15th August and attempt to run, Unsupported, all the way to San Diego crossing 3 states (Washington, Oregon and California).  I am sticking to the coastal road (Hwy 101) for most part.  The longest day is approx 47 miles and the shortest is just 19 miles. But on average daily running will be around 30-40 miles every day. They vary due to the motel stops! I am not carrying anything with me apart from my Salomon race pack so I will be relying on motels for showers and towels!
You are doing this challenge for charity, what charity are you fundraising for and why have you chosen this one?
I am doing it actually for 3 charities. 2 x UK and 1 x US
The UK charities are:
Claire House Childrens Hospice. I have ran and raised for this hospice before, I have been there and met the staff, the children and seen what magical things they do there.  It costs £9000 every day just to keep the doors open at Claire House.  They not only help the children with terminal ilnesses, but provide a support network for the families. There are siblings still visiting Claire House, years after they lost there brothers and sisters.  It is phenominal. As a father of 4 children, I have an emotional attachment to what they do and to know they are there.
Combat Stress.  Combat Stress is the charity that helps current serving and ex British military with mental health issues such as PTSD.  As an ex soldier that has served in places such as Iraq, I have battled with PTSD and Combat Stress have always been there, at the end of the phone and options to go in and get treatment with them.  More and more soldiers and veterans are coming to Combat stress for help in recent years which means more specialists to help deal with the demand. Combat Stress are just amazing!
I sadly cannot mention the US charity yet, because they haven't confirmed I can do it for them.. There is a little more red tape as I am coming from UK etc.. I will release this charity as and when I am allowed.
How much preparation have to you had to do? Are you ready to go?
Can you really prepare for something like this? I can run a marathon to test if I can run a marathon, but I can't run back to back ultras to test if I can run back to back ultras! So the honest answer is, Only time will tell! I have changed my training a lot, I have hit the gym a lot more and  focussing more on spin and the barbell squat and core to ensure my joints can cope with the stress! Mentally I am ready to go!
You mentioned that you are an ex soldier, first off, thank you for your service!  Did the military training you receive translate at all into helping your endurance events?
The British military has definitely given me the right mentality to take on something like this.
What thoughts run through your head when you are doing an endurance event? What goes through your mind when you hit 'the wall'?
I recently ran the Warrington 42 mile Ultra.. What went through my mind.. The hell did I sign up to do this for!! I don't really hit the wall, as a lot of runners do! I have no drama in walking if I need to for a couple 100m and then get going again! I run for the love of it not to break any records! I guess running the West Coast, I will have the end point of San diego lodged firmly in my mind and knowing I am raising money for these amazing charities that desperately need it! What kept me going through Warring 42 was thinking, I can run.. I have the ability to run, all the children in Claire House will never get to do what I am doing today…
If you could do any challenge in the world, what would it be? Is there anything big on the bucket list?
Oh my, there are some amazing events I would love to do! The Ocean Floor Race would be one of them and of course MDS is every ultra runners dream race!
Do you look up to any athlete in particular for inspiration or motivation?
Definitely Scott Jurek as he is a Vegan Ultra distance runner (prob the best in the world!) Sean Conwy and a guy called Dennis Yang who has just finished running the perimeter of the US! There are so many out there and all are amazing!
Also Ben Smith from The 401 Challenge is a huge inspiration. Having learned of Ben's challenge and then meeting with him in Warrington on his 139th marathon was a huge inspiration because he was actually out achieving his challenge. This gave me even more drive to do mine!  He has spent time speaking with me too about my challenge and giving me advice.  The guy is awesome, such an approachable bloke doing something amazing!
What's the first thing that you are going to do to celebrate when you finish your challenge?
Well, my wife has told me I need to complete it before the 27th Sep as that is her 30th! So I hope I can celebrate her birthday with her!  To be honest, I'm secretly hoping my running club (Warrington Running Club) will have something secretly planned for me!!
 If you weren't currently training for this challenge, what would you be doing?
Probably entering trail races around the UK with my wife looking over my shoulder at how much i'm spending on them!!!
If you would like to support Stuart's challenge, there are many ways that you can do so. First off, you can donate to his challenge on his VirginMoney page. If you want to send him a message of support, you can find him on his Twitter, Facebook or Instagram. You can also check out his challenge website at StusRunning.com
In the run up to his challenge, Stuart will also be hosting his own Virtual Challenge where you can log miles in support of his challenge & also the charities that he is fundraising for. More details on this to follow soon, so keep an eye out!
Are you inspired by Stuart's story? Has it brought about a desire for a big challenge? Let us know what your next challenge will be on our Facebook or Twitter page!
Visit EtchRock.com to get started and find your next challenge!
Team Etchrock
[aps-get-count social_media="facebook"]