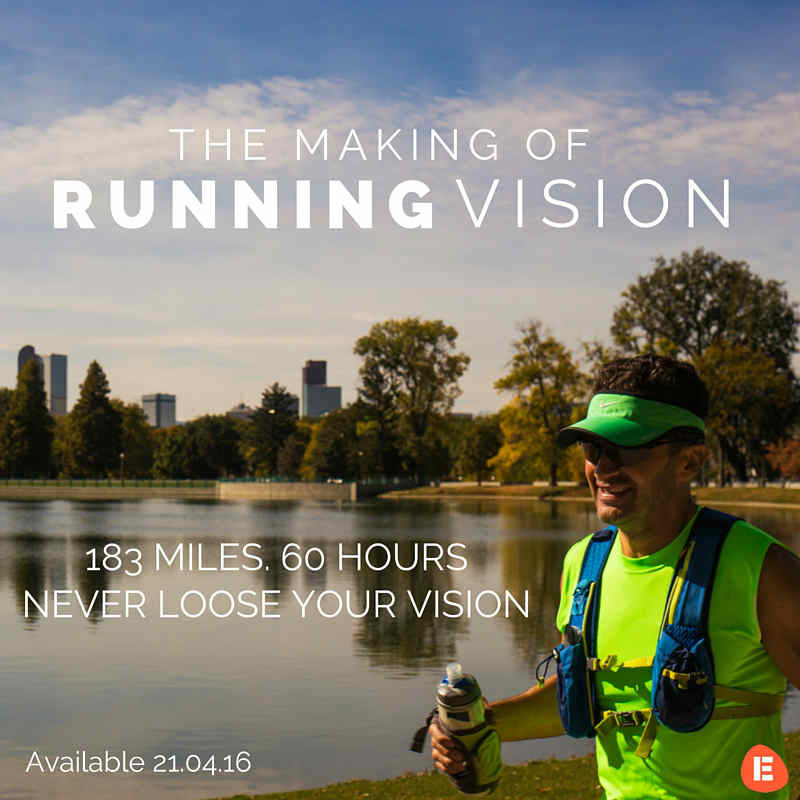 The making of 'Running Vision'
In case you haven't yet seen Running Vision, you need to! For those that haven't, in 2015, blind ultra runner Jason Romero decided to take on a challenge called the Puerto Rico 150+ or as he calls it, 'The monster of the Caribbean'. This brutal challenge takes runners 183 miles from the easternmost to the westernmost point of the island and has to be completed in 60 hours or less. Eight elite runners were invited to take on the course, only four finished. Running Vision is the debut documentary film directed by Taylor Shain of an inspiring journey that follows Jason on this challenge of a lifetime. You can read our review of the film here.
We got the chance to catch up with first time director Taylor about his experiences making the movie, here's what he told us.
Sometimes I joke that "I accidentally produced a feature film." And in many ways, this most recent project was an accident, it just sprung up at me out of nowhere. In this post (and in several that will follow shortly) I'm going to document how my first feature film was produced. When I first met Jason, he told me "yeah I run a little bit." I assumed that he meant that he occasionally would a local 5k or 10k. Then one day I stumbled across the story of his exploits on the news. My eyes popped. I had no idea that Jason was that strong of an ultra runner. The news story chronicled his ongoing attempt to break a record for fastest 100 miles for a blind person on a closed track. He had to run 100 miles in under 24 hours. Which meant he would run 40 laps around the park. And in case you weren't already impressed, Jason is blind. Jason Romero has a condition called, retinitis pigmentosa. It's a degenerative condition in his eye. Over time his rods and cones are slowly dying.

Last time I asked him, he has 20/400 vision. Compared to someone with 20/20 vision, he would have to walk up to within 20 feet of an object just to see what they would see at 400 feet. After watching that news story, I immediately ran over to Wash Park to run a lap with him. I had no idea he was such a strong runner. While I was running with him, he told me he was getting ready for another ultra marathon in Puerto Rico. He also said it would be cool to have a short video about the race. My eyes lit up – I knew this would be a cool story. What I didn't know was just what this project would turn into. As I continued to shoot and edit, Jason's story seemed to resonate with me. It grew and grew. It wasn't just Jason's eyesight that made him so interesting. He is a contagious beacon of laughter, positivity and kindness. And behind all of that, he is one of the most determined people I have ever met. Once he sets his sights on something, he will do whatever it takes to get accomplish his goal. Whether that is running 183 miles or executing business plans, he really is Relentless Romero. I'm hoping I became 'Relentless Taylor' on this project. Over the next couple of blog posts, I'm going to chronicle my process on this project. I'm going to share everything I learned, all the mistakes I made and the continuing adventure that is the distribution of this movie.
If you are looking to watch Running Vision, you have a great opportunity to get your hands on a free copy with EtchRock. Enter our Virtual Challenge where you have to run 183 miles by the 21st June, just like Jason, except we are giving you more time! Everyone that enters the Virtual Challenge also gets a code for 50% off the movie, just drop EtchRock a tweet or message and they will send you the code!
You can join the Virtual Challenge here: Running Vision Virtual Challenge
Visit EtchRock.com to find your next challenge! Don't forget to subscribe to our blog to keep up to date with the latest challenge news!
Team Etchrock
[aps-get-count social_media="facebook"]