A day with Castle Triathlon at the #PopUpCityTri
Yesterday team EtchRock got the opportunity to take part in Castle Triathlon's Pop Up City Tri taking place in Montgomery Square, Canary Wharf.
The concept was simple. Teams sign up to take part in a large-scale static triathlon competing for the best distance over a given time (3 min swim in an endless pool, 4 minutes on a cycle ergometer and a 3 minute run on a treadmill with a 3% incline).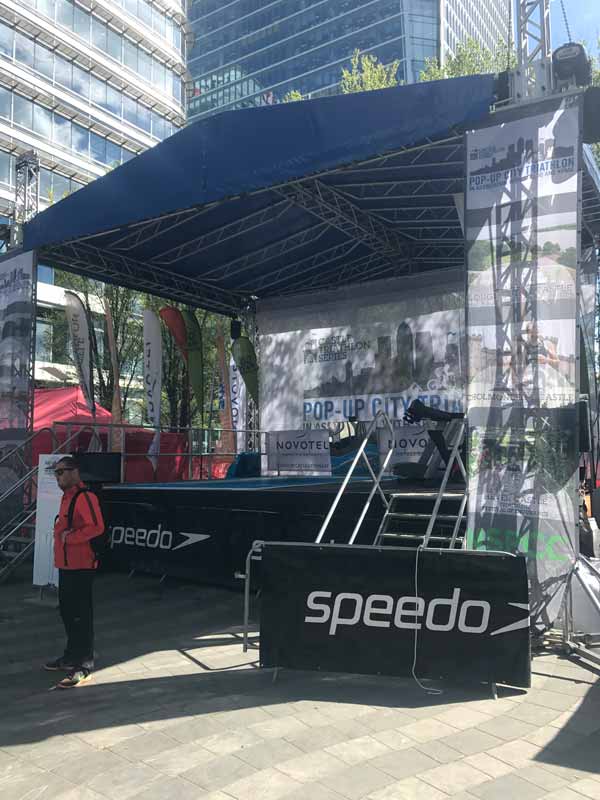 The teams are made up of three and compete in one discipline each and represent the same company. There was a mixture of industries taking part from banks to print media, so we were keen to test our metal against the rest of the field.
With the top team winning the prizes shown below, we had to have a go! The entry fee also goes to MacMillan, so it was all for a great cause too.
£1,000 for the teams' charity of choice PLUS each team member will get:
– Swim changing robe
– KitBrix bag filled with goodies; VitaCoco Oil, High5 nutrition, race belt, multi-functional sports scarf and CherryActive
– Three-month training plan from expert training partner, thetrilife.com
– FREE one-hour physio consultation or massage with Six Physio
– FREE race place at any Castle Triathlon Series event/distance
– Complimentary bottomless brunch at BOKAN restaurant, Novotel London  Canary Wharf
If your team placed in the top 5, you are invited back for the final on Thursday evening to battle it out for the top prize!
So how did we do?
Well, EtchRock director Stuart kicked us off with the swim section of the event in the endless pool. He battled hard on his way to 204m which is a fantastic result considering he has never swum in an endless pool before.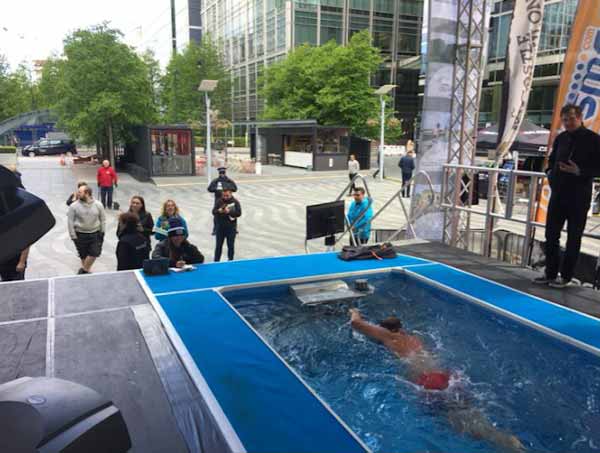 Next up he tagged in marketing manager Jason who gave his all for a 4-minute sprint on the bike. As seems to be the trend with Team EtchRock, we were all novices when it comes to triathlon! Still, he pushed out 3km on the bike which he was very proud of.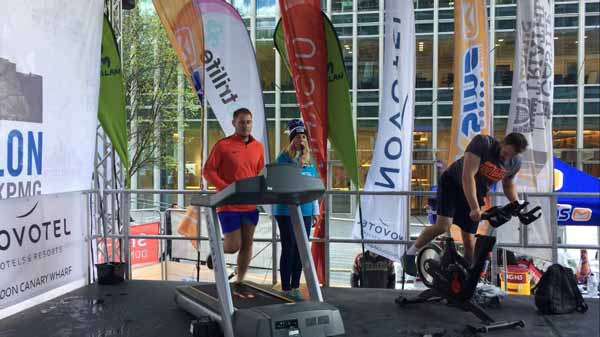 Bringing it home was another Jason, this time another director of EtchRock (Confusing, I know). He gave us 750m to add to our total which at the time of the event, put us into second place overall! At the time of writing this, we have in fact been moved down to 5th by teams who competed after us. But we prefer to bask in the glory of our former placing and nobody can tell us otherwise.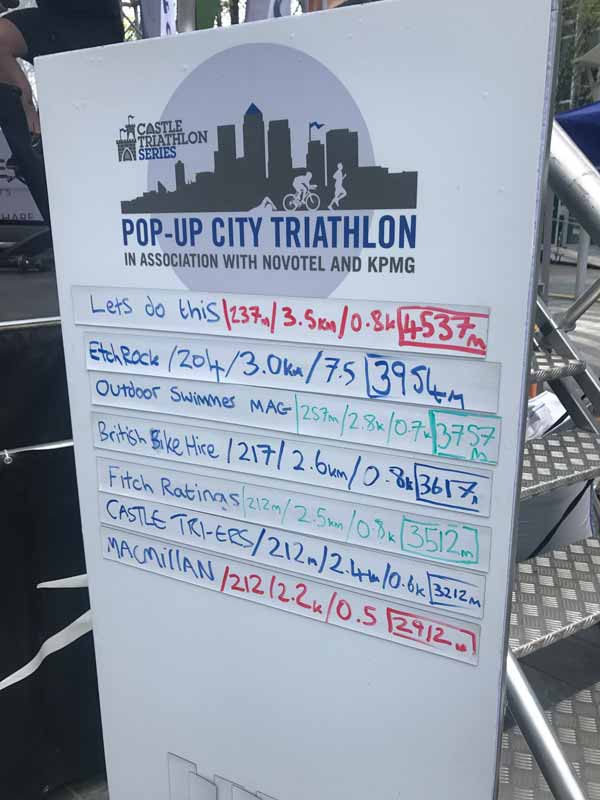 If you want to get involved, don't hesitate, get your butt down there! Yesterday, we even had one-man rock up and do all 3 events himself. He had his suit off, event done and back dressed in under 30 minutes. That's what you call a good lunch break!
If you or others from your company want to take part, check out Castle Triathlon's website for the Pop Up City Tri or just head down to Montgomery Square in Canary Wharf. You still have one more day to sign up and take part!
Follow the action on Castle Triathlon's Twitter or use the hashtag #PopUpCityTri to keep up with the action!
Visit EtchRock.com to find or create your next challenge!
Team Etchrock