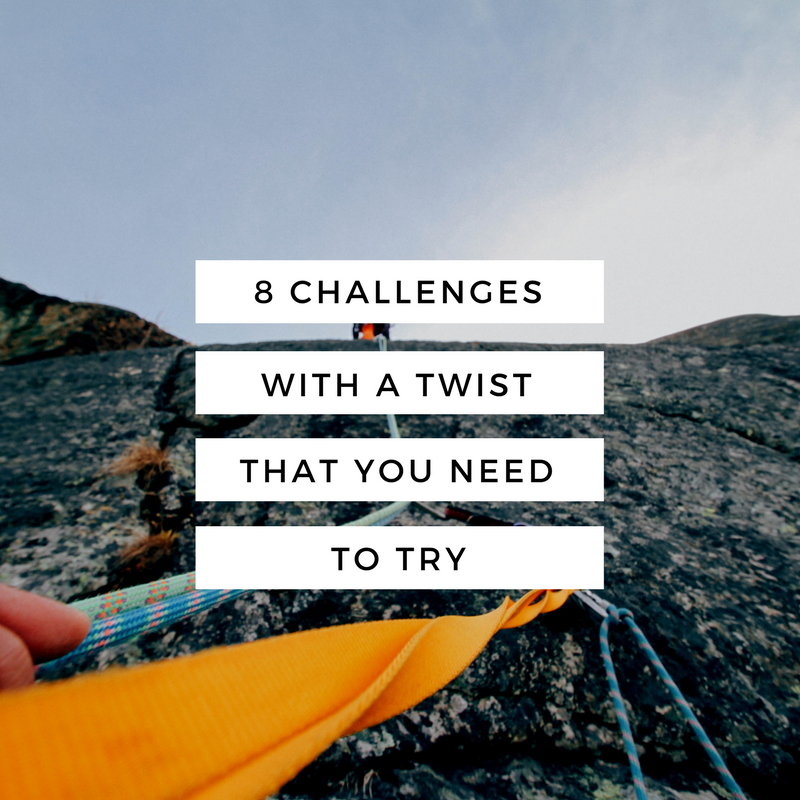 8 challenges with a twist you have to try
8 challenges in the UK that you haven't tried before
If you're looking for a new challenge this year but aren't interested in the usual marathon or triathlon, then this post is just for you.
In today's blog, we look at 8 different challenges with a twist that you can try this year if you're looking to spice things up. These are in no particular order, we equally want to try each one as much as the next!
Event Type: Endurance stair climb
Location: Broadgate Tower, London
Price: £20 a person or £75 a team
Date: 4th March 2017
If you're an endurance athlete, we have found the challenge for you! Climb to the top of London's impressive Broadgate Tower with Total Motion's sponsored stair climb in March 2017. With 877 steps, 35 floors and a panoramic view of London at the top, this is a challenge not to be missed!
Conquer the Broadgate Tower is a chip timed event and is supporting a great cause in Action for Hearing Loss. If you want to give it a go, visit their website to get your ticket today!
Event Type: Run – Bike – Kayak Adventure Race
Location: Multiple locations across UK
Price: Prices start at £36
Date: Multiple dates
You've all heard of adventure racing before, but have you ever done one that includes kayaking?! This is certainly what peaked our interest and the main reason why we can't wait to get involved!
In their words, Questars bring you the very best of adrenalin filled adventure racing, in some of the most spectacular UK locations. Their event appeal to everyone from beginners to experienced adventure racers and promise a day that you won't forget.
If you want to get involved and browse Questar's different events, check out their Races and Events page.
Event Type: Adventure Racing with navigation
Location: Multiple locations across UK
Price: Prices start at £5
Date: Multiple dates
If you love either running, cycling or adventure, we have found an event that includes all three. Whilst your traditional triathlon includes swimming, Tri-Adventure has put a twist on their events and added a navigation element to the race.
With multiple events around the UK, a loyalty scheme for regulars and different difficulties for every level of racer, Tri-Adventure has a race for everyone. Never navigated your way using a compass and map before? Don't worry! Tri-Adventure gives you all the tools you need to get started.
If you want to find out more and take on a new adventure, find out more on their website.
Event Type: Survival Training
Location: Multiple locations across UK
Price: Prices start at £55
Date: Multiple dates
Ever watch 'The Island with Bear Grylls' and wondered if that could be you? Well, now you have the chance to take on your own survival situation with the Bear Grylls Survival Academy.
If you want training in essential survival skills or put what you know to the test, the guys have an event for everyone. With multiple locations around the UK, you can release your inner 'Bear' whilst you learn how to start fires, make shelter and find food in the most remote places.
If you're ready to take on the ultimate survival challenge, check out their website and see what they have to offer.
Event Type: Swimming & climbing
Location: Glasgow, Scotland
Price: Tickets go on sale 14th February
Date: 18th March 2017
Red Bull Neptune Steps is returning to Glasgow on the 18th March 2017! The open-water swimming event challenges elite endurance athletes in an adventure race like no other, swimming through 420 metres of cold water, climbing 18 metres over eight canal lock gates, and pushing participants to their limits in a true test of speed, strength, and resolve.
Tickets are not yet on sale but entries go live on the 14th February. What a perfect Valentines Day gift! Register your interest on their site.
Event Type: Ultra run unlike any other
Location: Peak District
Price: Prices start at £45
Date: 22nd July 2017
The 5th edition of The 12 Labours of Hercules sees the event back home in the Peak District. The 12 Labours of Hercules is a 12 stage ultra marathon orienteering trail event totalling 78 miles in the Peak District.
Without giving away too much, the route follows the story of that of the legendary Hercules where you will have to complete 12 individual labours each 1-12 miles in length. For some labours, a small, relevant item must be collected at the control point and returned to the HQ. For a few, completion of the labour will only be revealed upon visiting the control location where participation in a small task may be required!
If you want to find out more about this one of a kind event, check out the details on their website.
Event Type: Rock climbing
Location: Peak District
Price: Prices start at £85
Date: Multiple dates
There are few activities that are more challenging than scaling a cliff face. Whilst many of us have tried our hand at indoor climbing, how many can say they have actually tried the real thing?
Pure Outdoor offer some amazing rock climbing courses in the Peak District that allow you to hone your skills in the great outdoors whilst learning all the basics to become a competent climber.
If you want to get started on your first rock climbing adventure, see Pure Outdoor's different options on courses.
Event Type: Mountain trek
Location: Snowdonia, Wales
Price: Prices start at £49
Date: Multiple dates
Snowdonia National Park in North Wales is synonymous with beautiful, rugged landscapes and wonderful trekking and outdoor pursuits. The highest mountain in Wales at 1085m, its Welsh name is Yr Wyddfa, reputedly the burial place of a mythical giant.
A popular summit trek by day-time, it forms a real challenge by night. Standing at the summit by moonlight will be an unforgettable experience, as will seeing the sunrise from the mountain slopes. As you descend, you will be able to see the spectacular landscapes open up before you as the day grows lighter.
If you want to take part and fundraise for a great cause, find out more information here.