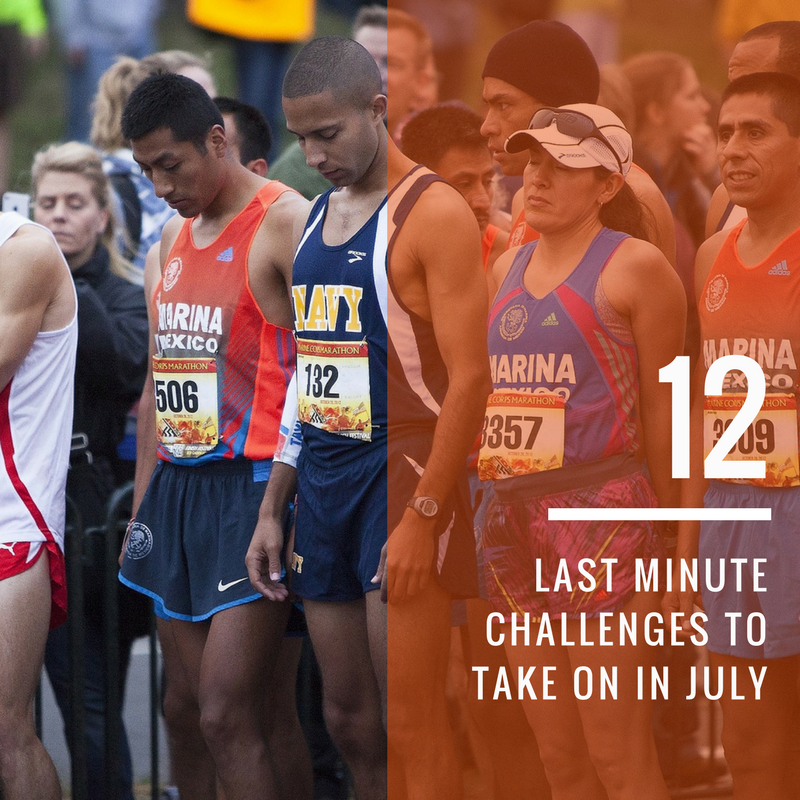 12 last minute challenges to take on in July in the UK
With the recent heatwave in full force here in the UK, it's the perfect time to look for a new challenge to take on next month.
Do you have space in your event calendar for one more event in July? Then we've got you covered. In today's blog, we go over 12 awesome last minute challenges here in the UK that still have spaces open.
We have three events each for running, cycling, OCR & triathlon.
Running
Date: 2nd July 2017
Distance: 10k
Price: From £139
Location: Newham, London
The Simplyhealth Great Newham London Run will take runners through Queen Elizabeth Olympic Park. Starting a stone's throw from the iconic ArcelorMittal Orbit, the 10k course makes its way past the London Aquatics Centre before looping back round behind the Stadium towards the Copper Box Arena.
At the 7k mark runners will cross over the River Lea towards Lee Valley VeloPark. At this point there's only a few kilometres left before heading back into the Stadium where the finish line sits on the running track. Get that finish line feeling and multiply it by 10, knowing this is the same spot where world-class athletes made their appearance at the London 2012 Olympic and Paralympic Games.
Get your ticket here before they sell out!
Date: 1st/2nd July 2017
Distance: Endure as long as you can
Price: From £45
Location: Bramham Park, Leeds
The vast majority of runners at Endure24 are teams of between 3 and 8 runners, the most popular category is mixed teams of 6-8 runners but you can also run solo.
They suggest that teams nominate a captain to organise the running rota, wake people up (it's not unusual for people to miss their lap and leave a stranded team mate in the exchange area), and keep everyone motivated.
How seriously you take it is up to you, there will be some teams who set out to win and these teams may well cover in excess of 200 miles. Other teams will have their own personal goals, a distance, supporting a good cause or possibly just for a fun weekend running and camping with friends. If you want to dress up and lots of teams do, that's great!
Get you tickets here.
Date: 29th July 2017
Distance: Half marathon
Price: From £30
Location: Conwy Morfa, Wales
Set between the mountains & sea near Conwy, this incredible race starts and finishes on the beach next to the Mulberry marina and crosses into the Snowdonia National Park along the way. This half marathon may not be the easiest, but one of the most stunning you will ever do!
This race is also subject to tide times, this means that the time and date changes every year. If you're interested in going, make sure you keep up to date with latest news on their website.
Triathlon
Date: 9th July 2017
Distance: Iron man and half
Price: From £220
Location: Hever Castle, Kent
One of the premier endurance event days of the racing calendar, Castle Triathlon are back in 2017 with a marathon in addition to other their usual lineup.
With Sunday 9th July 2017 promising another exhilarating and atmospheric celebration of 'going long' at the iconic and stunning Hever Castle. Loved by competitors and spectators alike the event is hailed the most friendliest and beautiful on the tri radar.
Make sure you get your ticket quickly on their website.
Date: 2nd July 2017
Distance: 1.5k swim, 40k bike, 12k run
Price: From £69
Location: Putsborough Beach, Croyde
Croyde Ocean Triathlon in association with Roundswell Hyundai is back for its third year on Sunday 2 July 2017.
Based at the beautiful, award-winning Putsborough Sands, the race takes in some of the South West's most stunning scenery. This Olympic distance Triathlon is a course to be reckoned with and certainly not for the faint hearted.
Join them for one of the most fun and challenging events in the triathlon calendar by getting your tickets here.
Date: 22nd/23rd July 2017
Distance: Multiple distances
Price: From £75
Location: London
Attracting over 13,000 participants and 30,000 spectators each year, this iconic event has become a must do event in the sporting calendar. With a variety of distances, routes and wave categories to choose from it doesn't matter whether you've never done a triathlon before or are an Olympic champion – everyone is welcome!
The AJ Bell London Triathlon takes place at the Excel Centre, Victoria Docks. From here you will swim, bike & run past the iconic landmarks of our capital.
It's an immensely spectator friendly event attracting more than 30,000 people a year, who come along and support friends, family and loved ones.
Get your ticket quickly to be part of this iconic event.
OCR
Spartan Race Edinburgh Beast, Ultra & Sprint
Date: 22nd/23rd July 2017
Distance: 5k, 20k, 42k
Price: From £72
Location: Midlothian, Edinburgh
This course features proper Scottish hills that will do their best to drain the energy from your legs. Throw in obstacles and you have an event that will test your mental strength, endurance, grit and perseverance.
It is always a pleasure to host events in areas of such natural beauty, and you'll no doubt find yourself drawn in to the picturesque surroundings of Spittal Farm. The scenery will boost your enjoyment and make you want to get to that finish line even faster.
Situated among beautiful rolling Scottish hills, Midlothian is truly a sight to be seen. With countless historical structures and castles, individual Spartans and families will have more than enough history to keep themselves occupied while taking in the sights of one of Scotland's true treasures.
Check out their website for more details and to get your details before they sell out!
Date: 8th July 2017
Distance: 10k
Price: From £76
Location: Wembley, London
Men's Health Survival of the Fittest is officially a decade old, making it the longest running obstacle racing series anywhere. These gritty, urban and exhilarating obstacle courses are already well known for that 'Big Event' feel and for obstacles you simply don't see anywhere else. Expect the unexpected as we shift Survival up a notch for 2017!
At Survival of the Fittest you'll discover the obstacles that the other guy won't build: From container pyramids as big as an office block, to stunt jumps off the top of trucks, you'll only find these monsters at our events.
Get your tickets before the price rises.
Date: 8th July 2017
Distance: 10k
Price: From £54
Location: Nottingham
Water Wipeout is the wettest fun run in the world of obstacle racing – so if you are remotely aqua phobic then this will really challenge you to the core!
Hosted at the world class venue National Water Sports Centre conveniently based in Nottinghamshire. We selected this venue specifically based on it's amazing attributes, such as the ideal location in the centre of England makes it accessible from most areas. Capacity – this venue can cope really well with literally thousands on site at any one time as it plays host to some of the UK's most notable sporting events. There are plenty of areas to change, shower and get refreshments too. But we mostly selected this particular venue for it's plentiful supply of the wet stuff. Last year we introduced the white water course as an obstacle where you have to jump into the fast flowing water and boy did everyone enjoy that experience!
Early waves are selling out so get in there quickly.
Cycling
Date: 28th/30th July 2017
Distance: Multiple distances
Price: From free
Location: London
Developed by the Mayor of London and his agencies in 2013, Prudential RideLondon is a world-class festival of cycling. The fifth edition will take place over the weekend of 28-30 July 2017.
There is no other closed-road event like it that combines the fun and accessible element of a free family ride in central London with the excitement of watching the world's best professional cyclists race in the Prudential RideLondon-Surrey Classic and Prudential RideLondon Classique.
Get involved in the amazing event here.
Date: 15th/16th July 2017
Distance: 200 miles
Price: From £119
Location: Herefordshire
A two day cycle tour from the quiet Herefordshire lanes, over the Cambrian mountains and down to the seaside town of Aberystwyth…..and back again.
The Route: This is what it's all about, as the title suggests this is a tough tour over two days of approx. 100 miles each day. We will minimise the use of A roads and maximise quiet, scenic roads through stunning scenery.
The Logistics: There is ample, free parking at the HQ for you to be able to leave your cars there for the weekend. At registration we will collect your overnight bag which we will transport to the accommodation at the university of Aberystwyth. On arrival there we will swap your bike for your bag and keep it securely stored until you set off again the next day. Accommodation at the university is in individual rooms with a shared bathroom for each corridor. Bedding and towels are provided.
We will provide a hot buffet style evening meal and breakfast which is in a dining hall adjacent to the rooms, which is good for tired legs. In the morning we will swap your bag for your bike and do it all again. On arrival back at HQ there will be hot food provided and showers/ changing facilities are available.
Get your tickets here.
Date: 9th July 2017
Distance: 30, 66, 100, 120 mile options
Price: From £26
Location: Newbury, Berkshire
Celebrating its 11th year in 2017, the Wiggle MagnifiCat sportive has gained the reputation of a prestigious event with a fierce pedigree and formidable challenge. Forging the rolling Hampshire countryside and classic climbs on the South Downs as one, this event is one of a carefully picked few that many cyclists aim to tick off the 'to do' list.
The longest route of the MagnifiCat – one of UK Cycling's oldest events – spans 124 miles and will drag you over more than 6,500ft (2,000m) of hill climbing action. Based on the UCI European Golden Bike Events model, the route is a simple anti-clockwise loop that begins in Newbury.
You have 16 days until online registration closes, so get involved quickly.
Visit EtchRock.com to get started and find your next challenge!
Team Etchrock