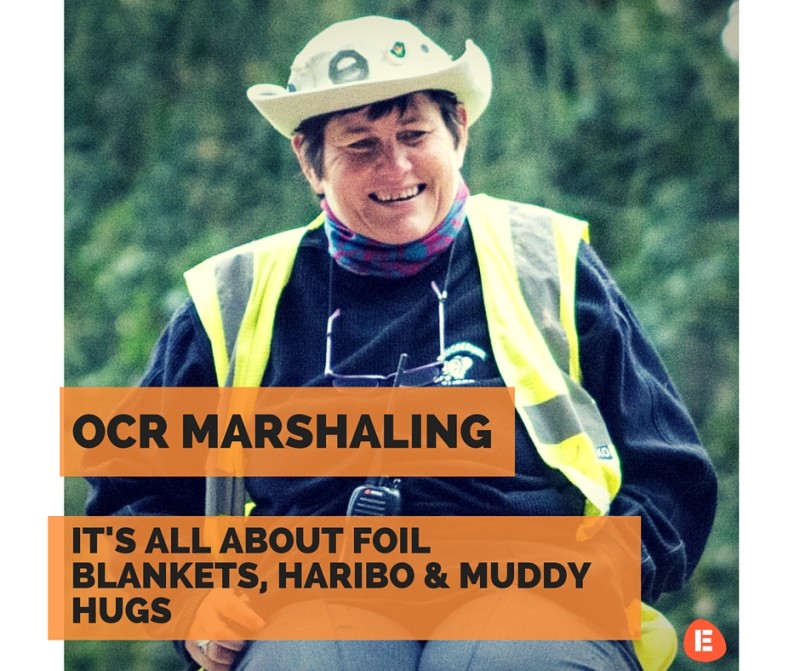 OCR From A Marshals Perspective – Foil Blankets, Haribo & Muddy Hugs

Latest posts by Caro Laithwaite
(see all)
The idea was simple, l would do a day and night marshal at the Reaper OCR race in March 2015 and use them to pay for two future Reaper Races.
From the start something went very wrong with that simple plan. Three OCR marshal courses later I seemed to be fully immersed into the world of marshalling. I was one of adjudicators at the first OCRA UK Championships, one of 12 marshals picked to cover at The Unknown, 36 hours of insanity in Wales, head marshal for Warrior Run in Brighton, area supervisor for Frostbite and Gelt Gladiator and even heading to the European Championships in the Netherlands later this year. Yes, something went very wrong…
Marshals are always first of the group other than organisers to arrive. We mill round in the early morning cold waiting for the briefing and to assigned to obstacles.  looking to assist where possible before the race. I get to see newbies looking scared and wide eyed, they may have done many OCR but this is a new side that is still strange. Old hands greeting each other with a scream or in my case a frozen grunt while looking for a coffee to hug. I tend to try and keep an eye open for first timers, then amble over and chat to them offering extra advice while waiting for our briefing.
Marshals need to know information about their station, like how many max participants on their obstacle at one time or any special details about it. Where are the runners coming from and going to, how far in or to the end of the race, where is a water station and what is emergency protocol? If someone is injured we are there to divert runners around the person and assist the injured person while help arrives even if it is just talking to them. We also deal with any spectator queries.
If we are lucky the sun will shine even if it is cold, if unlucky we have cold wind, rain and scudding grey clouds. Once on post, it can be up to 8 hours of work supporting the hundreds or even thousands of runners. Food & drink on post is whatever you have brought however some races like Ram Run are great as they bring lunch of Hog Roast rolls and a drink out to us, other races supply drinks and food tokens.
Races vary in "thank you rewards". Some, like Nuclear have a choice and their Dryrobes which are very popular. Others offer a free race and some a percentage off a race.
I'm not sure what it is that has caught me so hard when it comes to marshalling. I think seeing people doing what l am hopeless at and trying to help push them onto better than they did at the other obstacles is a big part! I very much love being a part of a buzzing community and recognising people's faces at different races. l am hopeless at names, but know so many face's getting greetings yelled at me and muddy hugs, even from total strangers! A quick chat at Frostbite from Mark Noble about his cold balls or a hug from Paul Burko a lovely guy who prides himself on holding the end position is always anticipated.
Helen Chapman, a one legged runner once wanted to do the climb down Bridge of Hope to the River Avon to prove to herself she could do it. She had told me prior to the start and l discussed it with water rescue. When Helen arrived "Operation Helen" swung into action. All competitors were stopped and Matt (White Water rescue swimmer) went into the water to wait for her as she climbed down the rope into the water. He swam by her as she battled to the waiting cargo net with Cameron our paramedic and Matt (number 2) ready to pull her up. She may not have heard the cheer as she was busy in flood waters but we all cheered as loud as we could. I had tears as well but l know it was mud from muddy hugs from various runners, that's my story and l am sticking to it, us marshals don't cry. OCR is a totally inclusive sport no matter what sex or disability you can take part, even kids from four years have special courses.
Another reason I marshal is to see first hand watch the elite racers. Whatever obstacle l am on watching the elites go past, l swear they often don't seem to touch the obstacles at the speeds they do, blink and you miss them. What makes this sport so special is the attitude of these elite racers. How many other sports do those at the top of their game often go around again giving help and advice, join in mingling with fun runners, before and after the race. They are not here just for a race, they aren't gone as soon as the race is over, OCR elite racers are part of the community.
Overall I would say that I have found my passion. Muddy hugs make the whole day worth it, to be recognised by friend or stranger when they stop to give you a muddy hug is what this marshalling job is all about. The community.
If you are looking to try something completely new, then I strongly suggest you give marshalling a try. Not only will it give you a preview of what you could be taking part in, you will also get something in return most likely in the form of a free ticket. There is a reason that the OCR community is such a thriving and buzzing one, we all work as a team. From the participants, to the organisers, the elite racers and families, we make the community what it is today, one of the fastest growing sports around.
If you want to give marshalling a go, contact your local event organiser and they will be able to help you. Trust me, it will be the best decision you will make today!
Visit EtchRock.com to get started and find your next challenge!
Team Etchrock
[aps-get-count social_media="facebook"]