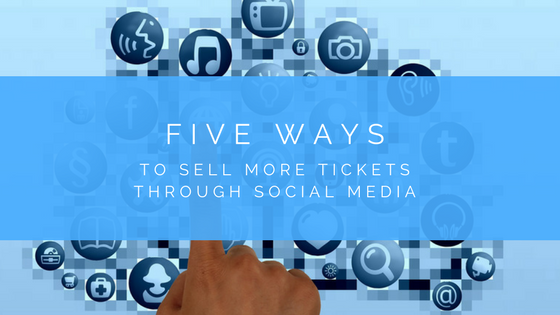 5 ways to sell more tickets through social media

Latest posts by Team EtchRock
(see all)
Sell more tickets through social media
Whilst social media is the face of many event organiser's brands, there is a resounding lack of strategy behind making social a focal point of ticket sales.
Having social media as a primary outlet for ticket sales doesn't only make financial sense but also from a user experience standpoint too. The more an event organiser can engage, inform and sell all on the same platform; it's a win-win for everybody.
In today's blog, we look at 5 ways to sell more tickets through social media and transform your channels into ticket selling machines.
Incentivise referrals
Peer to peer marketing is always going to be one the most successful forms of marketing. Why? Because people will always be more inclined to act on a suggestion if it's from a person they trust as opposed to a brand that hasn't heard of before.
By incentivizing referrals for friends, not only are you expanding your potential audience, but are also getting 'warmer' leads who are more likely to purchase. If there is something in it for both parties, you have a higher chance of converting more customers.
Sites like Wyng make it easy for you to create your own referral campaigns to entice your audience to pull in more potential customers into the fold.
If you're stuck for ideas, here's a couple to get you started:
– Tier based incentive system where the more referrals a user makes, the bigger the prize.
– Referrals allow the participant to be entered into a competition to win a prize. The more referrals, the greater the chance of winning
– When you refer a friend and they buy a ticket, you both get 20% off next purchase.
To get started with referrals, you will most likely have to implement some sort of infrastructure that will allow you to run an automated campaign. One of our favourite sites to do this is Voucherify. If you have any favourites, let us know in the comments below!
Run a competition
One sure fire way to get people engaged on social media for your next event is by hosting a competition.
Competitions are a highly effective form of generating buzz and engaging with your audience online. Not only can a competition increase your followers and give your attendees something to get involved in, but also a well thought-out competition can considerably push awareness of your brand further than your next event.
Some examples of prizes for competitions that you can host include tickets to the next event, branded products or merchandise or prizes from a sponsor. You can always ask people to like and share the competition to expand your reach or make sharing one of the conditions of entry.
How does this translate to more immediate ticket sales, though? Here's one idea, offer anyone that enters a 10% discount that can be increased based on a number of referrals. Email the entrants a special code to use at checkout so you can track the competition's success.
Don't have the capability to host your own competition? Viralsweep is a great place to start.
Faster payment processing for mobile
Did you know that whilst mobile devices make up for 60% of overall browsing traffic, they only account for 15% of online purchasing? That's a pretty staggering statistic for those event organisers that rely on mobile and social selling.
The main reason being is that people are, one, still not fully convinced about the security of processing payments on mobile devices. Two, it takes much longer to fill out the required address and credit card details on your phone compared to a desktop.
Payment processing giant, Stripe has actually come up with a great solution to this issue called Relay. It allows you to put instant 'Buy Now' buttons on tweets, apps or other places where you provide event information. Combine this with Apple and Samsung pay, it makes it much easier for a customer a make an impulse decision on purchasing a ticket from your social media content.
Facebook is also working hard on their ticketing platform as well. Make sure that you are up to date with their latest functionality so that you implement it on your own page. Having the option there to purchase straight away is paramount to the platform, where you are bombarded by hundreds of ads every day.
Get sponsors involved
If getting your event more exposure on social media is the goal, then you'd be smart to help enlist all parties that have a vested interest in your race's success. Whilst your sponsors will undoubtedly play a role on race-day, you should also see if they will lend a helping hand in the build up.
Reaching a bigger audience means more opportunities so it would be a good idea if you could come up with a couple of campaigns that would be mutually beneficial. Use some of the methods that we wrote about in this article a try. Try a joint competition or incentivize referrals for your tickets and their products. The possibilities are endless.
Use Facebook ads
Yes, we know, this is obvious. But you'd be surprised that a number of event organisers that don't actually invest money into their social media marketing. Facebook is a pay to play network and unless you have hoards of fanatical followers and an excellent content strategy, you could be missing out on potential sales.
Whether you're looking to learn the basics of Facebook ads or wondering why yours aren't working, it's worth going through your finances and working out how much you would be happy to pay to acquire a customer. We call this the cost of acquisition. So long as you can still get a good ROI on your sale, it's worth getting people through the doors as opposed to saving money. This is especially true if you have a new event and need more exposure.
There are plenty of different ad types for you to play around and experiment with. Just make sure you are constantly A/B testing everything so that you can optimise your campaigns.
Social media has firmly established itself as a core marketing platform for any event organiser. Whilst many brands use social as a face of their business, we think social channels are the most under utilised aspect when it comes to sales strategy.
If you're looking to harness the power of social and peer to peer selling for endurance events, check out the EtchRock Event Management page where we can show you how to 'Turn your participants into promoters' for free using our ticketing platform. Alternatively, drop us an email at support@etchrock.com and a member of the team will be more than happy to help!
How have you used social media to sell more tickets? Let us know below!