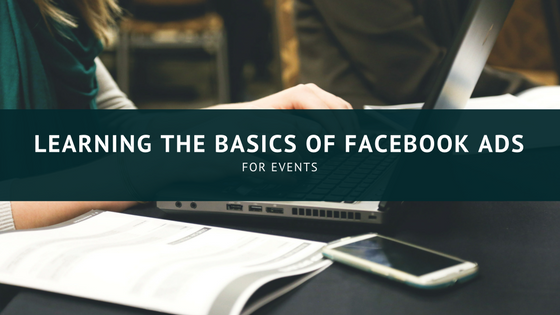 Learning the basics of Facebook ads for events

Latest posts by Team EtchRock
(see all)
Beginners guide to Facebook ads for events
If you're looking to promote your event online,  Facebook ads are probably one of the first tools that spring to mind. And for good reason too. At 1.86 billion users, Facebook has more monthly active users than WhatsApp (500 million), Twitter (284 million) and Instagram (200 million)— combined (CNBC).
With such a huge potential audience, it's important that you get to grips with how to use their advertising platform so that you can optimise your campaigns.
Due to its sheer size, Facebook is becoming a somewhat of a 'pay to play' platform if you want to get a decent ROI. Sure, you can get results from just posting on your business page, but if you want to reach the masses, it's time to invest.
In this article, we'll show you how to get started with your first Facebook ad campaign.
Set your goals
Before we get started with creating your first ads, it is important to set yourself a few goals that you would like to achieve from your campaigns. Would you like to raise awareness of your brand? Sell more tickets to your event? What about boosting the engagement of your Facebook posts?
As an event organiser, it's easy to forget the bigger picture and focus purely on selling tickets. No one would blame you either, you're looking for a good ROI. Our advice would be to look at Facebook ads through a wider, marketing lens. If you were coming up with a new campaign or event, what would your first step be? Ours would be to raise the awareness of it. Prospects are more likely to convert if they are already aware of your event; same theory applies to Facebook ads.
If you're stuck for goals to get started with your first campaign, here's a few for you:
-Increase attendance at your next event
-Get people to claim your discount offer
-Increase brand awareness
-Increase your Facebook fan count
Choosing your objective
Now that you have chosen your first goal, it's time to head on over to Facebook's Ad manager.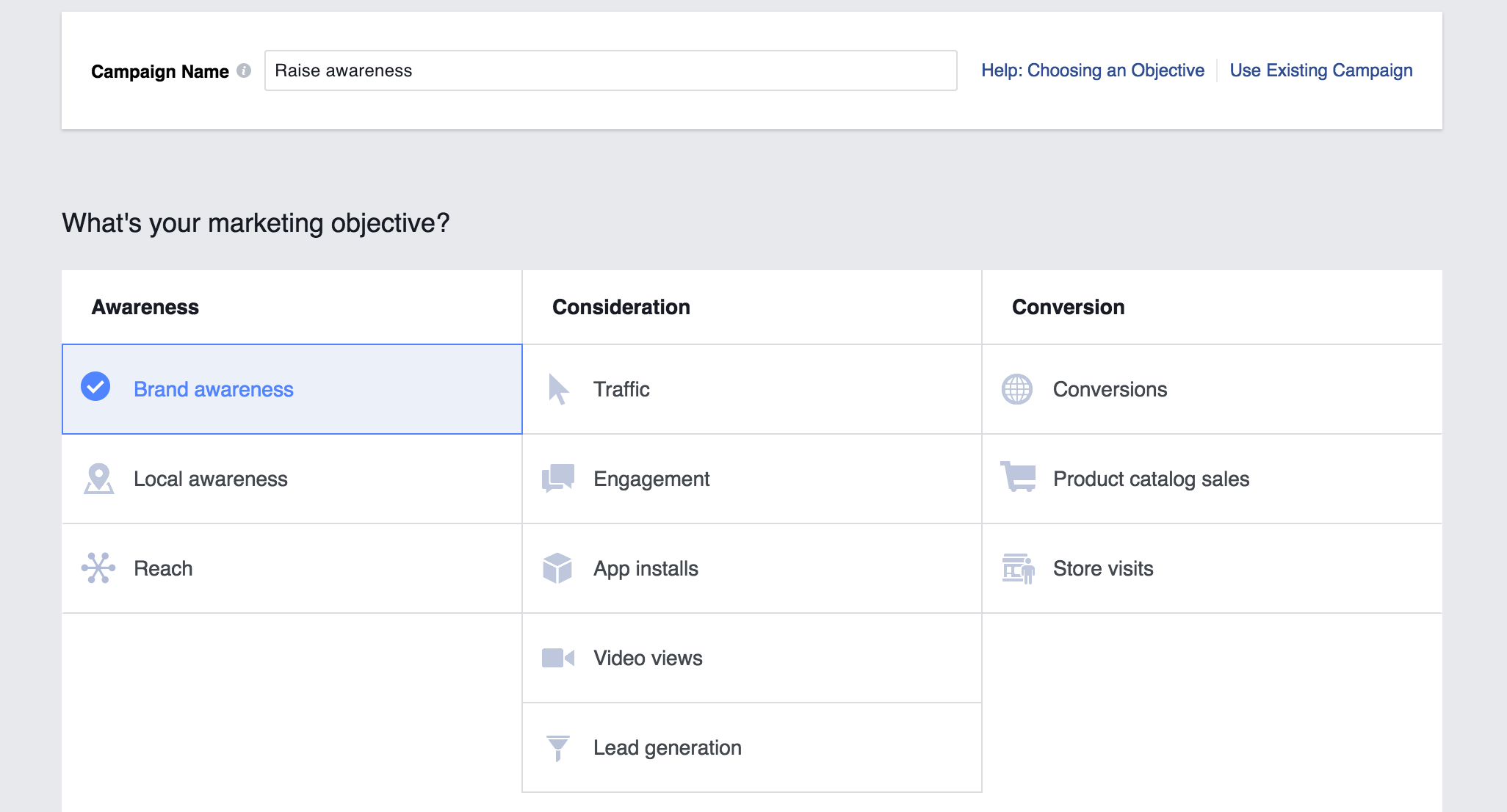 As you can see from the page, we have a choice of either raising awareness, consideration or conversions. In Facebook's latest update, they have chosen to take away the detail of what each objective's functionality is (you can now mix and match elements), but for your reference, here it is below: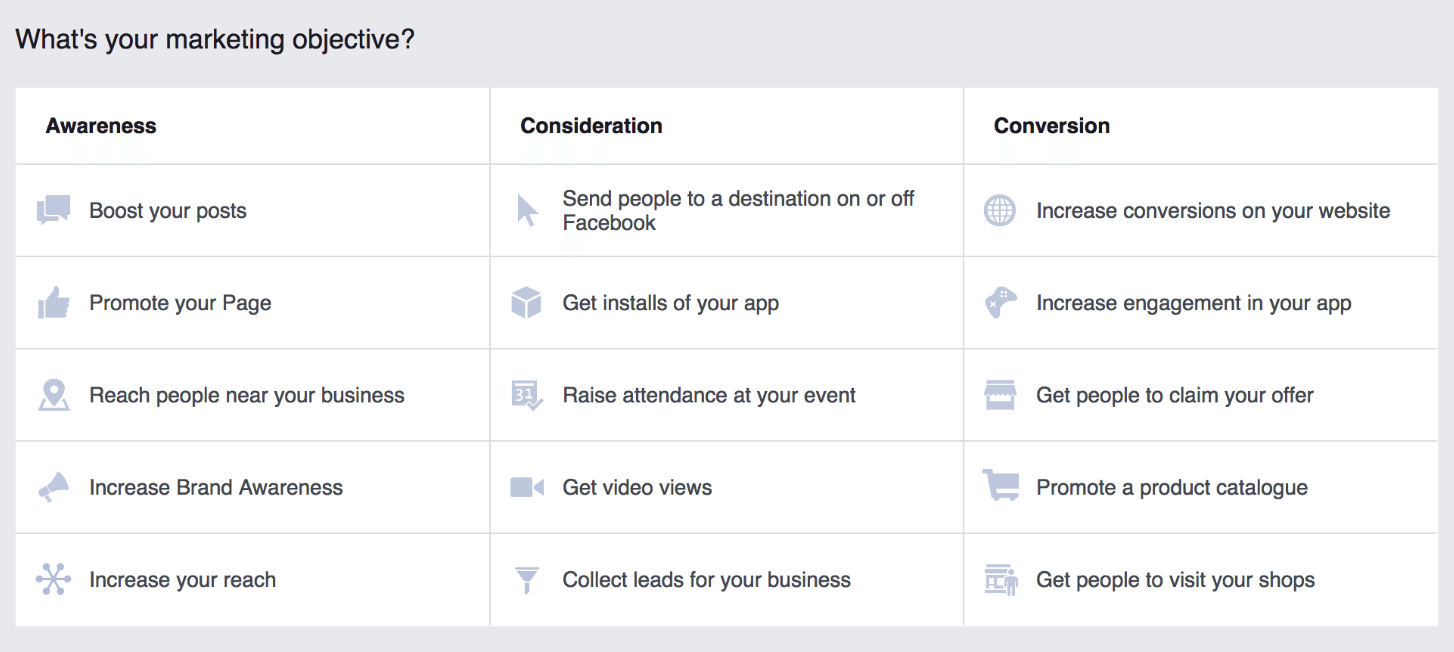 Defining your audience
You've decided the objective of your campaign, it's now time to define your audience. Facebook is constantly collecting data on it's users behaviours which allows us as marketers to target segments more effectively.
Knowing your audience well is the best way to advertise to existing customers, and also to seek out people who would be interested in your event. Take some time into doing market research into who you think will be interested in your content.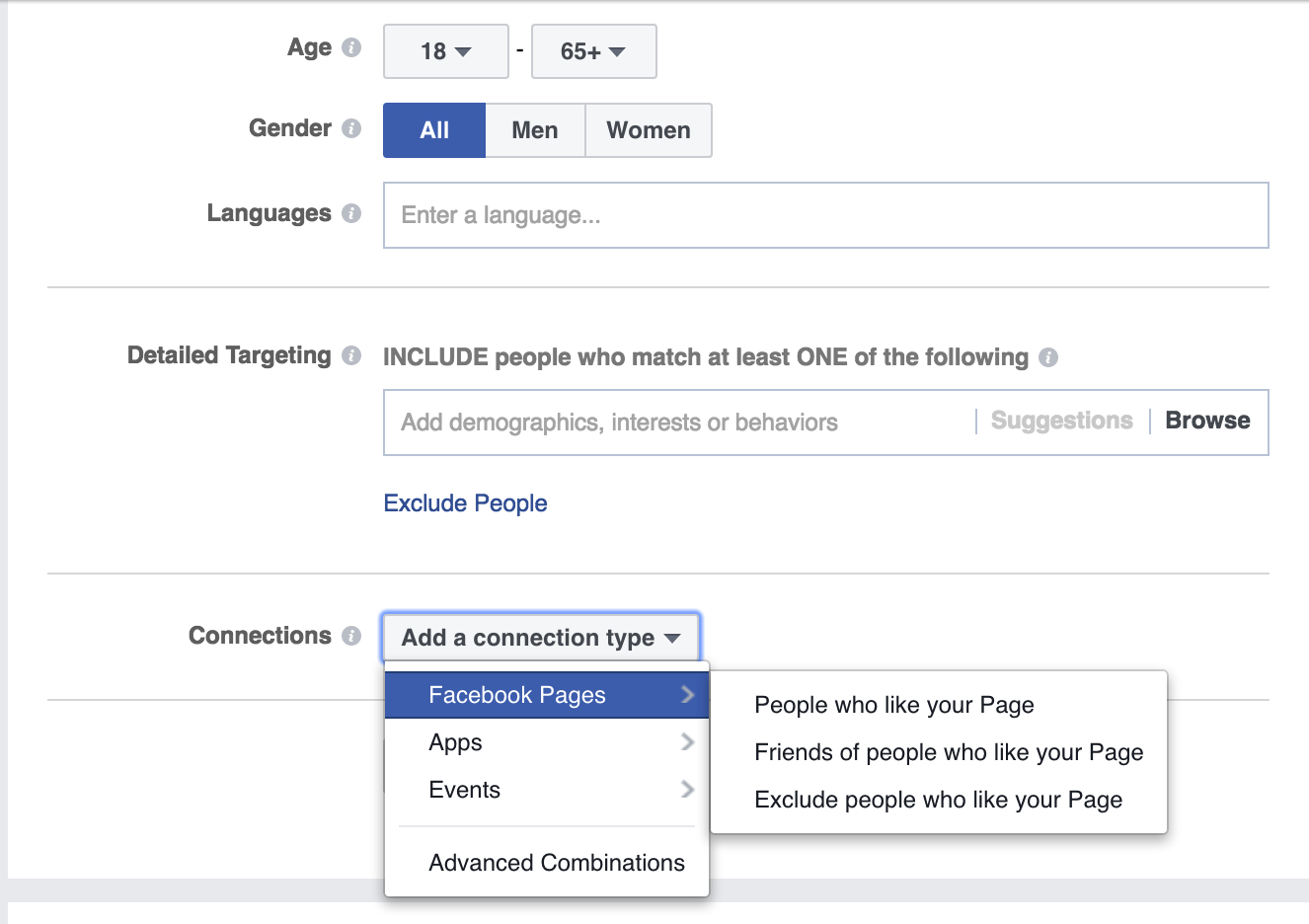 Really try to narrow down your reach, if your search is too broad, you won't get a good ROI. Although there isn't a 'rule' number to go by, getting the number to be a small one is a good place to start. This suggests that we have added enough targeting parameters to show our message to those who may be receptive to it.
After you have filled in all the relevant fields that you want to target, you may want to check out the 'connections' dropdown. This allows you to target people that already have some form of connection to your page. For example, you can include people who have liked your page, friends of people who have liked your page or even people that have attended one of your events.
You also have the ability to upload your own custom audience using the Facebook ad manager too. If you've been collecting email addresses, this would be a great place to start.
Whilst it may not seem worthwhile at first glance, remarketing to your previous customers or fans is one of the best ways to achieve your sales goals. According to Criteo, "Retargeted customers are 70% more likely to complete a purchase than someone who has not been remarketed to"
Get creative
Here's the fun part, get creative with the design of your ads or use one of your posts as a starting point. When creating your own, Facebook give you five different base formats to work off (shown below).

As a general rule, if you have great video, use it! Video is one of the most effective ways to get your message across. Just remember that the majority of Facebook video is watched without the sound on, so if it's loaded with dialogue, add some subtitles.
Take some time to experiment with different headlines and body of text too. You will find that different combinations work for different audiences. To continue to give your ad campaigns the best chance of being successful, you will want to refresh images & content after a while to prevent ad fatigue.
So that's it, you're up and running with your campaign! But the work is not over. You will most likely find that you are paying more than expected for your first run through, and that's ok. You will need to experiment above all else to see what works for your business.
Here are just a few last minute points to consider after creating your first Facebook ad campaign.
–Try using different marketing objectives to achieve the same results and measure them against each other. For example, instead of just using Facebook's functionality to increase attendance at an event, try promoting a post where you are promoting your event. You will typically pay more for conversion clicks so try to find cheaper ways around.
–Track your campaigns in Google Analytics so you can see what people are doing on your site after they leave Facebook. You can then also segment your traffic on Analytics into two groups, paid and free visitors from Facebook. You can create tracking codes in Google.
–Always check back on your budget and effectiveness of ads. This is especially true if you are targeting a small niche. People exposed to your ad over and over will get ad fatigue and it will loose its effectiveness. Keep refreshing!
Don't forget to subscribe to be kept up to date with the latest event management news!
Team Etchrock