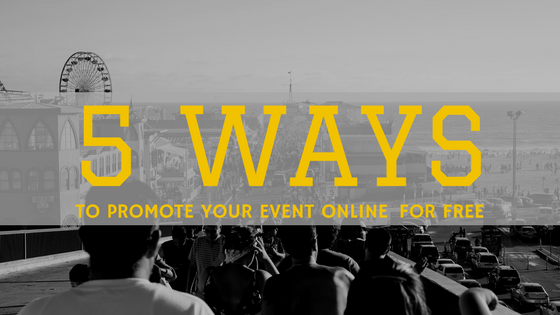 Latest posts by Team EtchRock
(see all)
How to promote your event for free online
When it comes to promoting your event online, you're certainly not short of options to chose from. It's important to identify cost-effective methods to supplement any of your paid campaigns so that you always have activities to fall back on if your campaigns aren't going as planned.
Competitions
Competitions are one of our favourite ways to drive interest and awareness for an upcoming event. They are a highly effective form of generating buzz and engaging with your audience online. By simply offering a free ticket as a prize, you have the potential to reach an entirely new audience by way of you entrants.
We know, technically it's not 'free'…But for the cost of just one of your tickets, it's one of the most cost-effective, guaranteed methods to work.
Sites like ViralSweep are fantastic for hosting your own competitions. They have built in functionality that allows entrants to be 'rewarded' if they share your competition on their personal social networks. The more networks they share it on, the more entries to your competition they get, therefore increasing their chance to win.
Exposure is the outcome, and they more people we can get to enter, the further you will be able to expand your brand's reach.
Hashtags
This one is important to get in early. You want to connect your event to a certain hashtag so that your participants can start to use it in the build up to the actual day.
Prompt your users to use the hashtag in any forms of comms that may go out on your marketing channels. Make it synonymous with your event.
Encourage your previous participants and followers of your brand to use it when interacting with you. Here's an example of what you could say, 'If you are training for our event, use the hashtag #EtchRockElites to show us what you are up to'.
Over time, there will be a steady increase in user-generated content connected to your hashtag which is great, free marketing for your event. It also allows you to easily identify the people that are most engaged with your brand and share their posts.
Go to their community
Don't sit around and expect your marketing messages to fall directly into the lap of your target audience, you need to go to them.
Now there are an infinite number of potential communities for all the different event types out there, so for simplicity sake, we will generalise and list a couple of places to look.
Leading on from the last point, hashtags are great for identifying a certain target market. Fans of certain activities will use certain hashtags when discussing a certain topic. For example, if I wanted to jump in on the discussion that UK based runners may be having, I would use the hashtag #UKRunChat as it's a well-established community.
More importantly, as a brand, you must be careful what you post in the community. It is there for people to discuss their passion, so you must not go in with a 'selling' attitude. This will quickly turn people off your event and can actually have an adverse effect. You want to join the discussion rather than sell to them. Asking for tips about your event or what you can do to make it better are great ice breakers to join the conversation. So stop with the gung-ho, cavalier approach and take the time to get to know your customers.
This can also be replicated across other popular communities online such as Facebook groups, Instagram hashtags and forums such as Reddit.
Identify influencers
Another one to jump on early, it's important to identify who key influencers are in your target market.
Start making friends in the press, reach out to journalists and bloggers that are in your field. By inviting them along to your event, they can help in your pre and post-event marketing.
If you don't have any contacts in the media, hashtags such as #PRRequest and #JournoRequest are great for reaching to people in your field. Just say the type of person you are looking for and why like shown below.
Writing about SME's and how they are making sure working mums and women returners aren't overlooked for promotions. Pls RT #journorequest

— GeorginaFullerWriter (@GeorgieR30) November 21, 2016

Bloggers and media people are always on the hunt for content to write about and if you provide them with a great experience first time around, it could be the start of a great, mutually beneficial relationship.
Content
Another long term strategy but again, one that can't be ignored. Start thinking about implementing a media/content plan before you start your next event.
Content from your previous events is a great way to market your brand in non sales like way to potential customers. Things like photos, race reviews, testimonials and video are all great examples of content that is worth sharing.
In today's sceptical society, having a more transparent brand image goes a long way into helping a potential customer make a decision to come to your event.
Don't forget to subscribe to be kept up to date with the latest event management news!
Team Etchrock