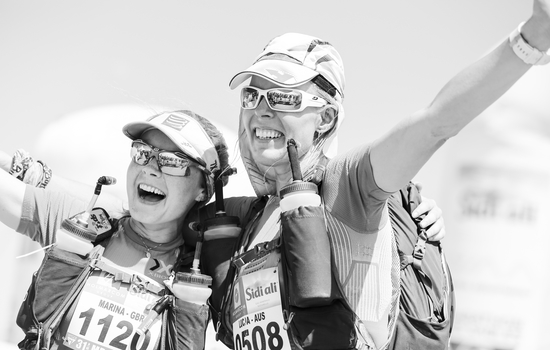 Bio
Who are Simply Runderfull? Two crazy blonde ultra-runners, Marina and Lucja ran the length of the Netherlands on July 27th 2016. We completed 500km in just 5 days wearing just pink Runderwear, raising money for The Pink Ribbon Foundation, a breast cancer foundation charity. 
It's the experiences and the places you see that we love so much about ultra running. Our first realisation of this was when I crossed the line at both mine and Lucja's first multi-stage desert ultra in the Kalahari desert. Since then, both of us have experienced many different challenges and adventures around the world but have always been keen to create our own idea to bring to life. We were instantly up for the challenge when Lucja hatched the idea and was so excited to share this journey with her for such a great cause. This was our biggest challenge yet where we will once again be pushing our bodies to its limits to see what it is truly capable of. While most people might call us mad, we feel privileged to be able to do something amazing with such a great friend. The response from the public, money raised and support along the way will no doubt be extremely rewarding. The ladies managed to complete their challenge and summarised it by saying 'It was truly the hardest thing both of us have ever done. An emotional roller coaster and memories that will stick with us forever. Having raised over £7,500 for breast cancer, we can proudly say that every minute was worth it.'
You can see a trailer of their challenge here.
running-ranger.squarespace.com 
Other Elites