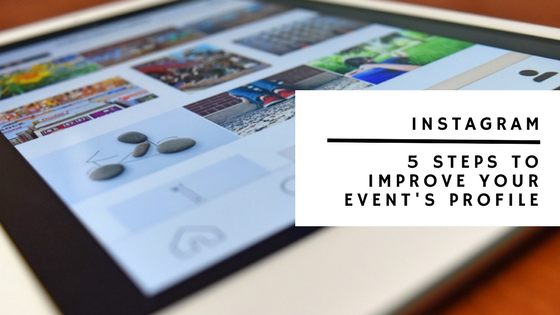 Improve your event's Instagram account with these 5 easy steps

Latest posts by Team EtchRock
(see all)
With Instagram now firmly establishing itself as a 'must have' social network and having 400 million monthly users, event organisers are right to build a presence for their race on the platform.
But aside from a large amount of monthly users, why should event organisers rush to put their events up on Instagram? Well according to the Global Web Index, Instagram has the highest percentage of users that follow the brands that they love (53%). 44% of Instagram users say they use the platform to do research on products.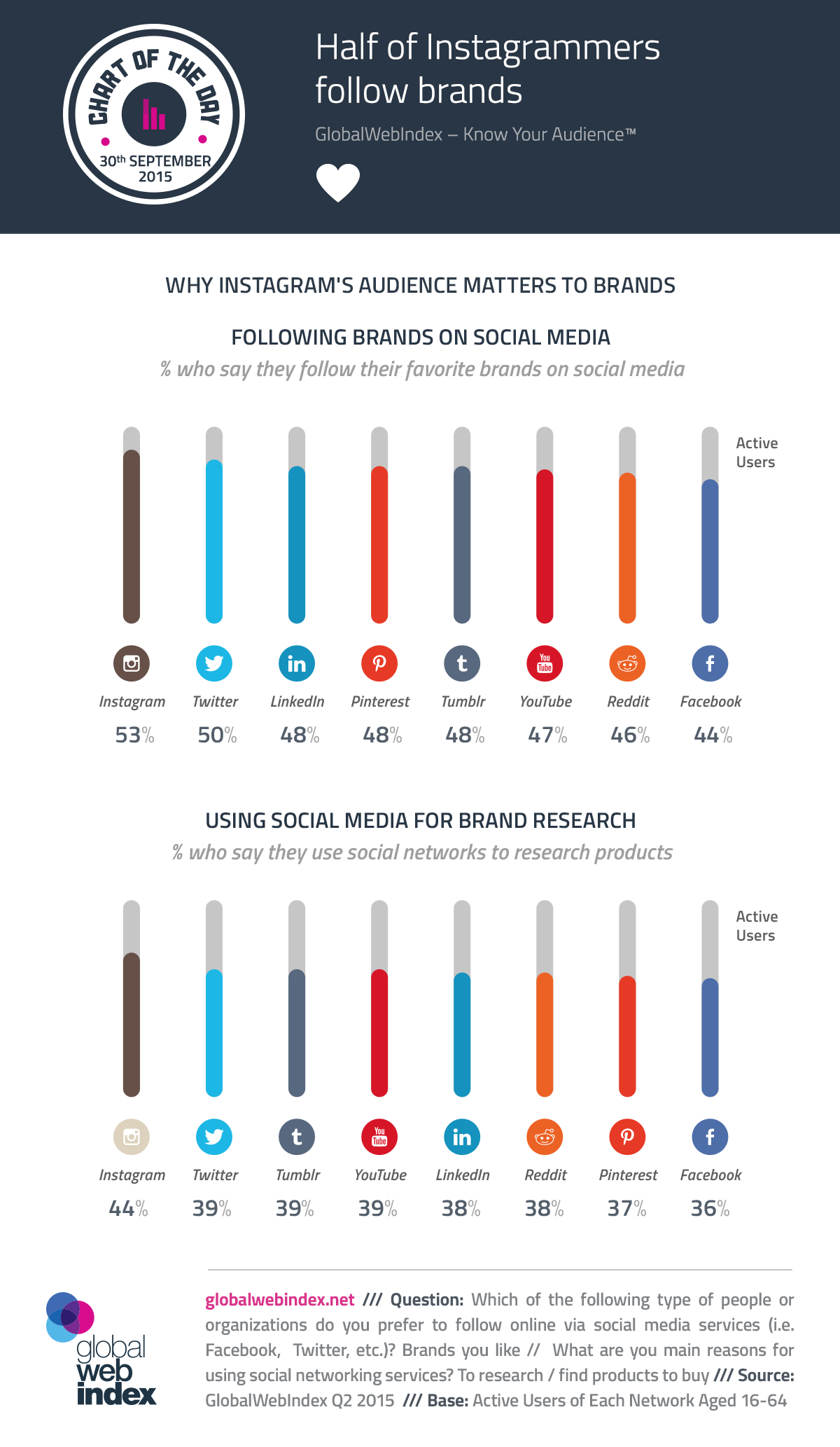 The image above just shows how vital it is for event organisers to have engaging social media channels. If 36 – 44% of your social media followers are basing purchasing decisions off your social channels, it doesn't matter how much you have spent on your website design. If the social networks aren't engaging enough, you run the risk of missing out on a sale.
But Instagram is pretty simple, right? You just upload a photo, add a filter and use a couple of hashtags and job done. Wrong.
Whilst it may seem that this works for some brands, there will have been a lot of thought put in behind the scenes to get their current level engagement. In today's blog, we go through 5 different ways in which you can adapt your strategy to grow your event on Instagram.
Use video, multi-image posts and Instagram stories
Whilst we all know these features exist, event organisers heavily underutilise them. Whilst Instagram only used to offer the ability to host 15-second video clips, you can now upload videos up to 60 seconds long. This is more than enough time to showcase some great video content from your previous events.
You can also now create multiple image posts on Instagram with the capabilities to add 10 images to a single post. Maybe you would like to highlight a certain feature or showcase the event area of your race? Having the ability to compress many images into one post can certainly be helpful!
Instagram also gives you the opportunity to add 'stories' of individual images or videos to your feed. It was released in response to and functions in a very similar way to Snapchat. The big benefit of doing a 'story' is that your posts will appear in a small circle above the news feed. This helps your post to stand out in a sea of clutter where it can be easily lost.
Don't sell, showcase
When posting about new features or events on Instagram, you need to try and stay away from the hard sell. People go on social networks; you guessed it, to be social. Not to be sold to. There are far more subtle ways of promoting your new product than spamming sales posts.
Leave all your pricing and other information on your website, keep it off your posts. If you're showcasing something new from your event, try to add a little intrigue to entice the viewer to want to find out more. Do the hard sell externally; keep your posts on Instagram fun and engaging.
Nuclear races do a great job of this all in one video post shown above. They announce a new obstacle, encourage engagement and top it all off with a competition to get involved.
Use third party apps
Whilst Instagram is a great platform by itself, there are plenty of third-party apps that you can use to enhance your video and photo content.
Here are a few of our favourite apps that you can use to bring something new to your Instagram profile.
Boomerang – Boomerang makes everyday moments fun and unexpected. Create captivating mini videos that loop back and forth, then share them with your followers on Instagram.
Repost – Repost for Instagram makes it easy to #Repost your favourite photos & videos on Instagram while giving credit to the original Instagrammer.
Layout – Create fun, one-of-a-kind layouts by remixing your own photos and sharing them with your friends.
Hyperlapse – Create amazing time-lapse videos with Hyperlapse. Using Instagram's in-house stabilisation, Hyperlapse shoots polished time-lapse video
Giphy – Giphy has a series of apps that allow you to view, create and share various types of GIFs across your social accounts.
Enlight – Whilst there may be may photo editing apps out there, Enlight is one of our favourites as it allows you to make interesting visuals out of your content.
Repost followers posts
Re-posting your follower's posts using the app Repost (Shown above) has many advantages.
It makes your followers feel privileged to be included in a post from the brand they love. Who doesn't love a shout out? If you make a request to your followers asking for submissions, this only increases your opportunities for engagement and builds your catalogue of content that you can push out.
Also, seeing other people have a great time at your event in a shared post is a powerful tool. You could even classify a repost as a visual testimonial of sorts; it gives the impression that you value your customers.
Engage outside your profile
Whilst this may seem obvious, the majority of interactions on Instagram in regard to event organisers take place on their profiles. Rather than wait for the engagement come to you, you should try engaging on other profiles.
One way to do this is to identify and engage a select group of influencers. These may be people who love your brand or have a significant following in your space. Make sure you let these people know that they are on your mind and use repeat interactions to keep them engaged with your brand. Especially in the case of influencers, this could help you further down the road.
Another way is by asking followers to use a hashtag connected to your brand in their own posts. Search for this hashtag and engage with the people that use it on their profiles. As a follower of a brand, there's no better feeling than getting some form of gratitude from them.
Instagram is a great visual platform that helps you show off a side of your event that you may not be able to with other social networks. That being said, there has to be a sound marketing strategy in place if you want to achieve growth on your profile and translate that into sales.
Your Instagram account shouldn't just be a place to post photos from your race. Do some research, see what your competitors are doing, try out new things and see what works best for your event. There is no black or white blueprint to follow so have some fun and experiment!
Don't forget to subscribe to the EtchRock Resources!