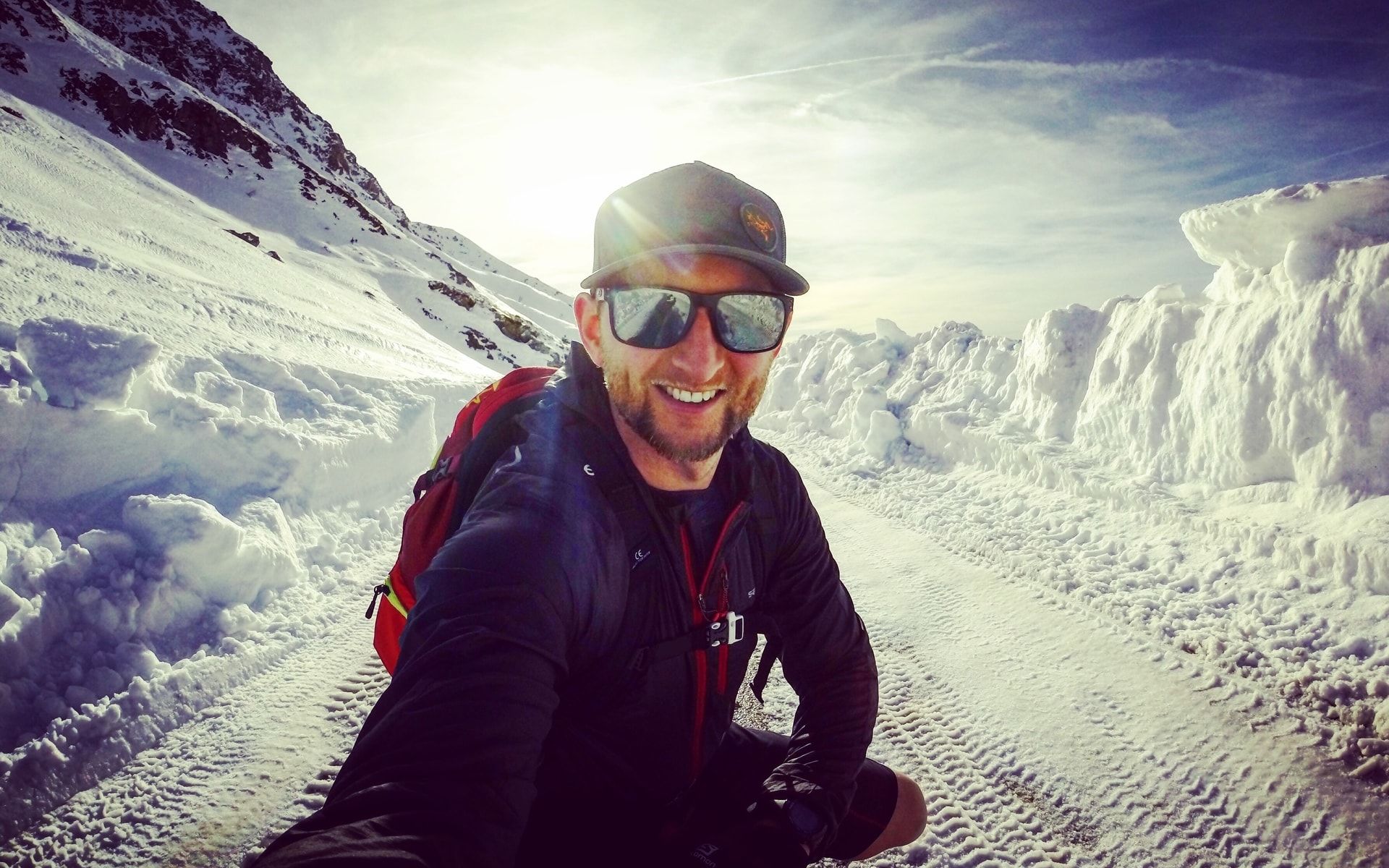 What's'up guys.
So you're keen to hear more about this little adventure I'm taking on?   
Grab a green smoothie and let's have a Q & A:
So you're running from Rome To Home?
Yep.
When?
Friday 25th August 2017
And when you say Rome To Home, you mean…
Starting at The Colosseum, heading up the spine of Italy, over the Alps from Aosta to Lake Geneva (via the Great St Bernard Pass), up to Paris, across the channel from Dieppe to Newhaven, then a quick blast round East Sussex (my home county) before heading up to London and finishing at the London Eye. That's the plan anyway, and it looks a little something like this: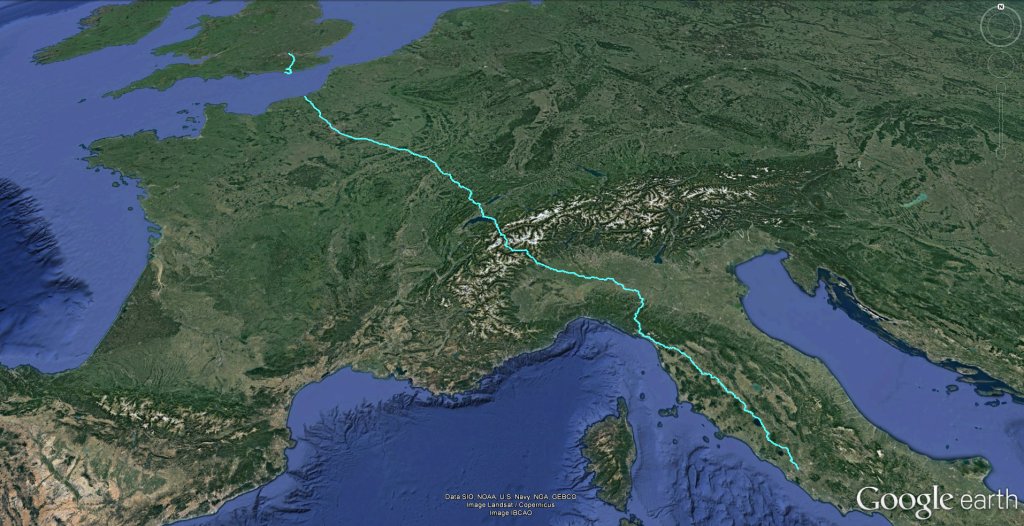 So just a small jog then?!
It's approximately 1250 miles in total. Bring it on!
How long do you think it'll take?
Roughly 65 days, which should have me home towards the end of October.
How far will you be running each day?
Between 20-25 miles a day roughly.
With a support team right?
Nope. Self-supported. Although you're never 100% self-supported what with the good will of those beautiful Italians and all of you guys with me in spirit.
So you're carrying all your gear with you?
Yep. In a 30L backpack, carrying nothing but the essentials.
You're a nutter.
Thank you.
Why?
Now we're talking.
Getting straight to it, I can't bear to live with the fact that 12 guys under the age of 45 take their own life every single day in the UK, and I feel I've got in in me – given my own experiences with bipolar, depression & suicidal thoughts over recent years – to play at least some small part in bringing this number down, starting with this epic adventure and using it as a platform to share my story.
That's absolutely my main 'Why' behind this epic adventure, but to bullet-point it, I'm running from Rome To Home to:
Share my story – the euphoric highs, the desperate lows and everything in between, what's worked for me throughout my recovery, how I manage/harness the condition as best I can, and hopefully to dish out a little hope to others living with mental health conditions that we can absolutely live life to the full with the right love, support and professional guidance in place.
Raise a tonne of cash and awareness for CALM (the Campaign Against Living Miserably) who do unbelievable work raising awareness about male suicide in the UK and keeping men alive by talking – a cause which resonates with me to my core as you can tell.
Have an awesome adventure in it's own right.
I'm also dedicating the Alps stage to the incredible team at Snow-Camp – the award-winning snowsports youth charity I've been privileged to be a part of for over half a decade, who themselves have supported me throughout my own recovery over the past few years. So let's see what we can do for Show-Camp also.
Sweet work.  So where will you sleep?
Well, besides wild camping whenever necessary, I'll be keeping an eye out for the number of amazing voluntary-lead places to stay along the Via Francigena – a stunning pilgrimage route that connects Canterbury Cathedral to Rome, which is still celebrated and promoted to this day by the European Association of Via Francigena Ways.
Many of these places (nuneries, convents, churches, hostels etc.) will still take you in even if you're not on a particularly religious pilgrimage, so that's just super exciting and I can't wait to see where I end up each night.
Will we be able to keep track of your progress each day?
Definitely. You'll be able to follow me on Twitter, Facebook, Instagram or on my website rometohome.com. I'll be doing my absolute best to keep you guys right up to speed with my progress along the way, and here's sample of what you can expect:
And you're using #RomeToHome right?
I am, particularly on Twitter. Use this hashtag and you'll be part of the Rome To Home 'conversation' from start to finish.
Very cool. So won't Italy in August going to be ridiculously hot? What's the plan?
Well you're absolutely right. Italy in August will be pretty toasty, so the plan is to set off early each morning (probably around 7am) to get as many miles in before the midday heat. Then it's all about recharging over lunch (hopefully with a rich Italian coffee in hand) and looking forward those sun-kissed afternoon runs and finishing well in good time each day to find the best accommodation for the night.
Aren't you going to miss your friends & family? 65 days is a long time.  
I really will. But you know those calling's you absolutely have to honor in life? This for me is absolutely one of them.
I've got an incredible family, an amazing Wife who's been through the whole journey with me for over 10 years now (I know right), and my closest friend's are the best of the best (you guys included if you're reading this).
I'll be in regular contact with everyone, and hey I'm not disappearing to the Antartic. This is only Italy, Switzerland and France after all so I'm not a million miles away.  Plus I'll be back before we know it. What's 65 day's in a lifetime huh?!
It sounds like you're a pretty spirited person Dan?
I am. I feel absolutely blessed to live the life I do and I wouldn't change a thing. You can read more about me here.
So physically, you're feeling good?
I'm feel in great shape. The conditioning's going well and the loaded backpack's getting ever more comfortable. With a mix of longer distance training runs plus 3 gym sessions a week, I feel like my overall physical strength is progressing well, all with the aim of being in the best shape possible come August.
Any mentally?
So this is where it gets interesting.
Despite being told that this adventure is by far one of the best ideas I've ever had (which is testament to just how nuts some of my other ideas have been in the past), I will need to be paying a huge amount of attention to what my brain's telling me along the way.
With Rome To Home being such a stimulating adventure, it'll be all too easy for my mind to get carried away with all that natural adrenaline and dopamine and stimulation that's comes with the bipolar package; so it'll be imperative that I keep myself in check on an hourly basis, and to continually have that heightened sense of self & observation turned up to the max, from the first step to the last.
But I'm in a great place. Better now than ever actually and I just feel so blessed to have an amazing team of people around me who have my back.
I'm sold. How can I support you or get involved?
Well right now I have a kit wish-list if you'd be interested in making any direct contributions towards this, but more importantly it's all about collectively gearing up to blow the roof of the fundraising for Rome To Home – to the tune of £25,000 – and supporting me by spreading word of this little adventure I'm taking on.
The dedicated Rome To Home fundraising page will be live soon enough, making it super simple for you, your friends or family to 1) make any direct donations towards my efforts, 2) set up your own personal fundraising page linked to mine (if you'd like to challenge yourself as part of the whole campaign), and 3) spread the word.
With 12 guys taking their own life every single day in the UK, I would be so humbled to have you and as many of your contacts donating £12 towards my efforts, whilst of course welcoming any larger donations if you're feeling super generous. If we found 2000+ people willing to do so, we'd smash the fundraising ambitions of Rome To Home and genuinely save so many lives through the amazing work that CALM do.
If you're reading this and you'd like to run (or cycle) with me for part of the 5 or so days when I'm in the UK (likely the last week in October), I'd love for as many of you to join me for 'The Home Leg' as possible.
The route will take us from Newhaven, over the South Downs towards Eastbourne, over to Hailsham, then Ringmer Community College (my old secondary school), then North to Sevenoaks and on in to London.
Whichever way you'd like to support me or get involved, please feel very welcome to contact me via email or any of my social media channels.
This challenge certainly isn't all about me, and I can't wait to have you with me along for the ride. Let's have some fun!
Solid work my friend. 
Well let's see. Roll on August 25th! 
Other Stories