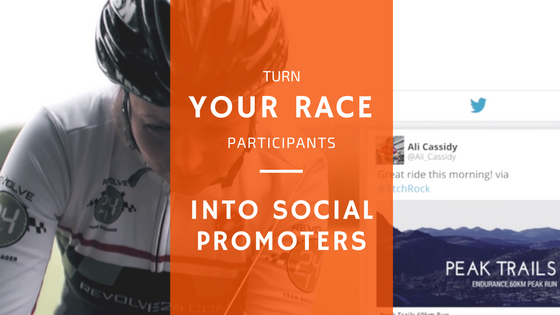 Latest posts by Team EtchRock
(see all)
In today's world of social networks and online engagement, your participants are the ones who hold they keys to how your brand is perceived. You may provide a brilliant experience on race day, but are you making the most out of your customers, pre and post race? Turning these customers into online promoters can boost your race with a ton of free marketing and establish your brand online. People will pay a little for a commodity, product or service, but they will pay a lot and develop loyalty when they are paying for an experience. Start harnessing the power of your participants and building a stronger online experience by following these easy steps:
Harness the Power of Training:
Most event organisers think that the sales funnel ends with the sale of a ticket. The reality is that 49% of participants are training 3-4 times a week and 50% of participants posting updates to social media; event organisers are missing out on valuable marketing opportunities. If your participants are doing this training anyway, then you may as well take advantage of it and turn it into free promotion for your business.
Build a Training Plan:
Building on from the last point, if people are training for your event, then you should be taking advantage of the marketing opportunity. Why not create your own training plan to encourage people to train your event? This is also great for first time racers, it will allow the to feel more prepared for what is coming in your race.
Enlist an Influencer:
Find out who are some highly followed individuals in your field. Reach out to a couple and offer them a free ticket to come down to your event. Just having this person of influence announce that they are attending your event can provide a boost to your sales if they have a strong following in their community. This could be followed up by a review as well to provide some post race promotion.
Meet customers where they are, not where you're most comfortable:
You may love Facebook and all its image capabilities but if the bulk of your participants are all tweeting, then you are missing out. Don't expect to convert customers into changing their behaviour based on what you are doing. You need to seek out thriving online communities where people are talking about your classification of event and engage in the conversation. As well as being a place to promote your race, being a genuine engaged part of the community will position yourself as an authority brand. 
Refine your advertising:
Leading on from the last point, you need to be advertising in the right places. We could write post after post about guides for Facebook and Twitter advertising but that is not the end all. Try and come up with a few different cost effective ways to reach your target audience. Find people of influence and see if you can advertise on their site or see if they would be interested in doing an affiliate program with you. Consumers these days are much wiser to advertising and you can easily find yourself pumping funds into ineffective ads if you aren't careful. Review what you are currently doing and see if there are new ways that you can reach your target audience to refresh your efforts. 
Content is king:
As consumers, we love to indulge in something that we passionate about. Give your customers a place to consume information about your event type in the form of a regularly updated blog. Developing a content strategy is a long-term goal that will pay dividends further down the line. Aside from the odd post, this shouldn't be a place to promote your event. Your content should be genuinely useful for athletes in your field and offer greater sharing potential. The real value here for the event organiser is getting subscribers. By subscribing, it shows a person not only likes your content, but wants to consume more.
Competition time:
Competitions are a great way to drive social engagement, even if you don't have a large online following. Offer some tickets in a free giveaway and watch your social skyrocket! There are plenty of online platforms out there that allow you to make the most out of hosting a competition. You can grow your email list, social engagement numbers and sales by running regular competitions. Entering, offers great exposure to new potential customers as they vie to win a free ticket.
Two is better than one:
Look to form partnerships with brands in your industry. They will help you to spread your event to a whole new audience. Also, by having a relevant sponsor, you can both offer cross-promotional discounts to both of your business. Their customers get a discount off your ticket and your customers get a discount off their products. This will also help develop a sense of credibility if you are partnered with an established brand.
Provide an experience and not just a race:
Obviously race day is the most important part of your planning, but providing an experience in the build up and post race can be just as valuable. Give your event a transparent look through your planning process, ask for customers opinions on what they think on certain aspects of your decision making and let them be part of the process. Giving a behind the scenes look at your race & what is coming gives participants reasons to engage with your brand and makes them feel part of the process.
Celebrate your participants:
If you really love your customers, then start celebrating them! Many will have a story worth telling about why they are taking part so make sure you have a way of hearing them. If they have written a review about your race, share it! This type of content can be key in influencing the purchasing decision of new potential customers. It is organic content, from real people and not just an online banner ad that claims your race is the best ever.
Don't forget to subscribe to be kept up to date with the latest event management news!
Team Etchrock