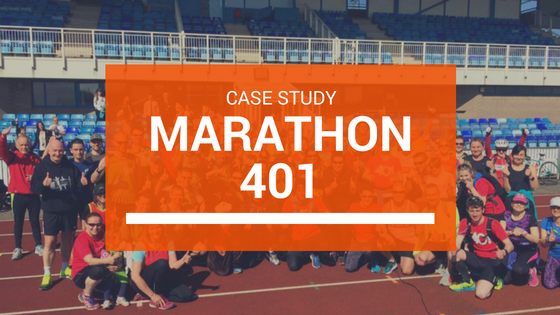 Latest posts by Team EtchRock
(see all)
Marathon 401 Case Study
The 401 Challenge was a world record attempt by runner Ben Smith to run 401 consecutive marathons in 401 consecutive days. His goal, other than to complete the challenge, was to raise £250,000 for charities Kidscape & Stonewall. Everyday, he travelled around the UK, ran a marathon in a different location and invited runners to take part with him. Over the course of his challenge, he had just under 10,000 people from all over the UK join him on his runs.
Marathon number 401 was always due to take place in Bristol, Ben's hometown. This was his victory lap or even homecoming per se. So Naturally, Ben & the 401 team wanted to make Marathon number 401 an event to remember for all.
Ben wanted to combine elements of both a live event and a virtual event to allow maximum participation on race day whilst simultaneously creating a community to promote the race in the build up to race day.
The Solution
We knew when we started this project, it wasn't going to be your standard 'out of the box' event. As Marathon 401 was always going to be held in Bristol and the day of the event was a Wednesday, potential attendance was always going to be an issue.
To tackle this issue, Marathon 401 was going to have a live and a virtual element to it. For those runners that wanted to, they could buy a ticket for the live race on the day. For those that couldn't make it to Bristol, a virtual race under the same name was created. This allowed participation options for anyone that wanted to take part no matter where they were.
We then went on to create a "challenge" page for marathon 401 that would be used to log participants training in the build up for the event. This would be the community that would help us promote Marathon 401 by way of its own participants. Every time a runner logged a training session on the challenge page and shared it, this helped to promote Marathon 401 by producing tailored training cards. Here is a link to the Marathon 401 training page.
These training cards contained information about the users run, mentioned that they are training for Marathon 401 and also linked back to the training page to drive more interest and awareness among participant's personal networks.
An example of a Facebook training card from a runner: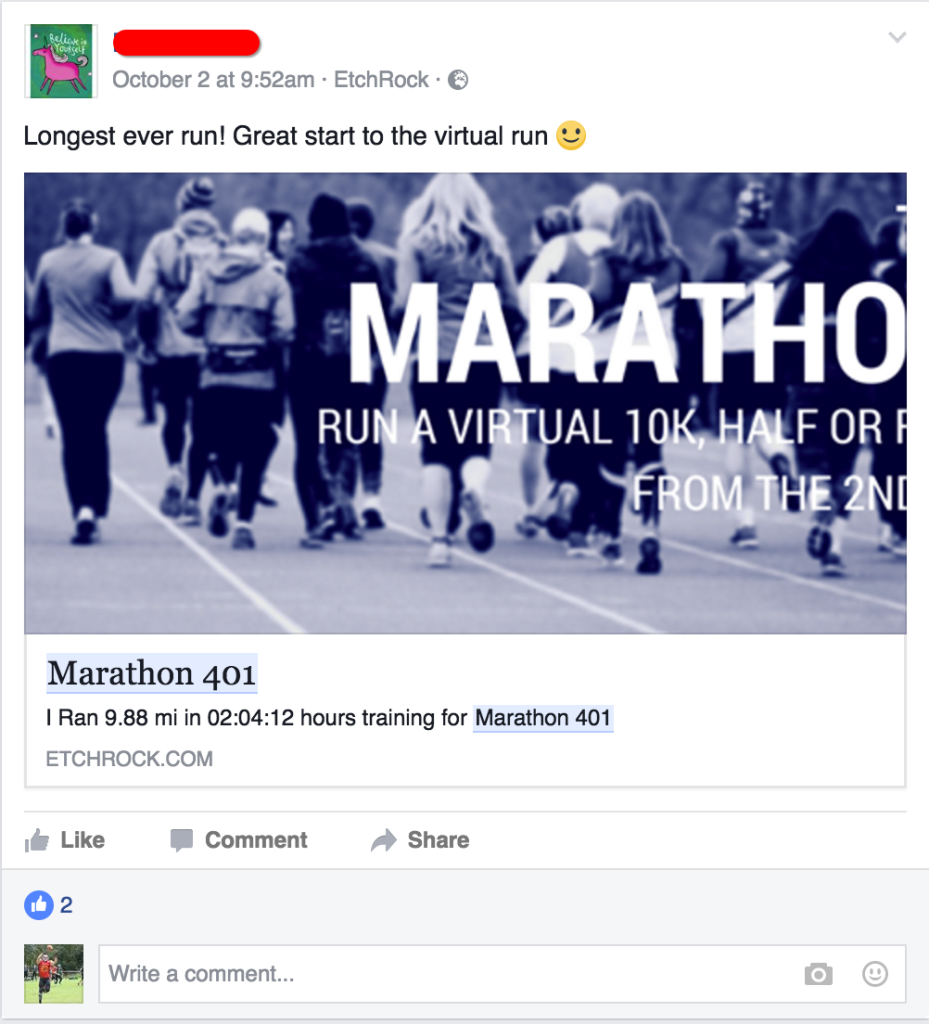 A training card on Twitter: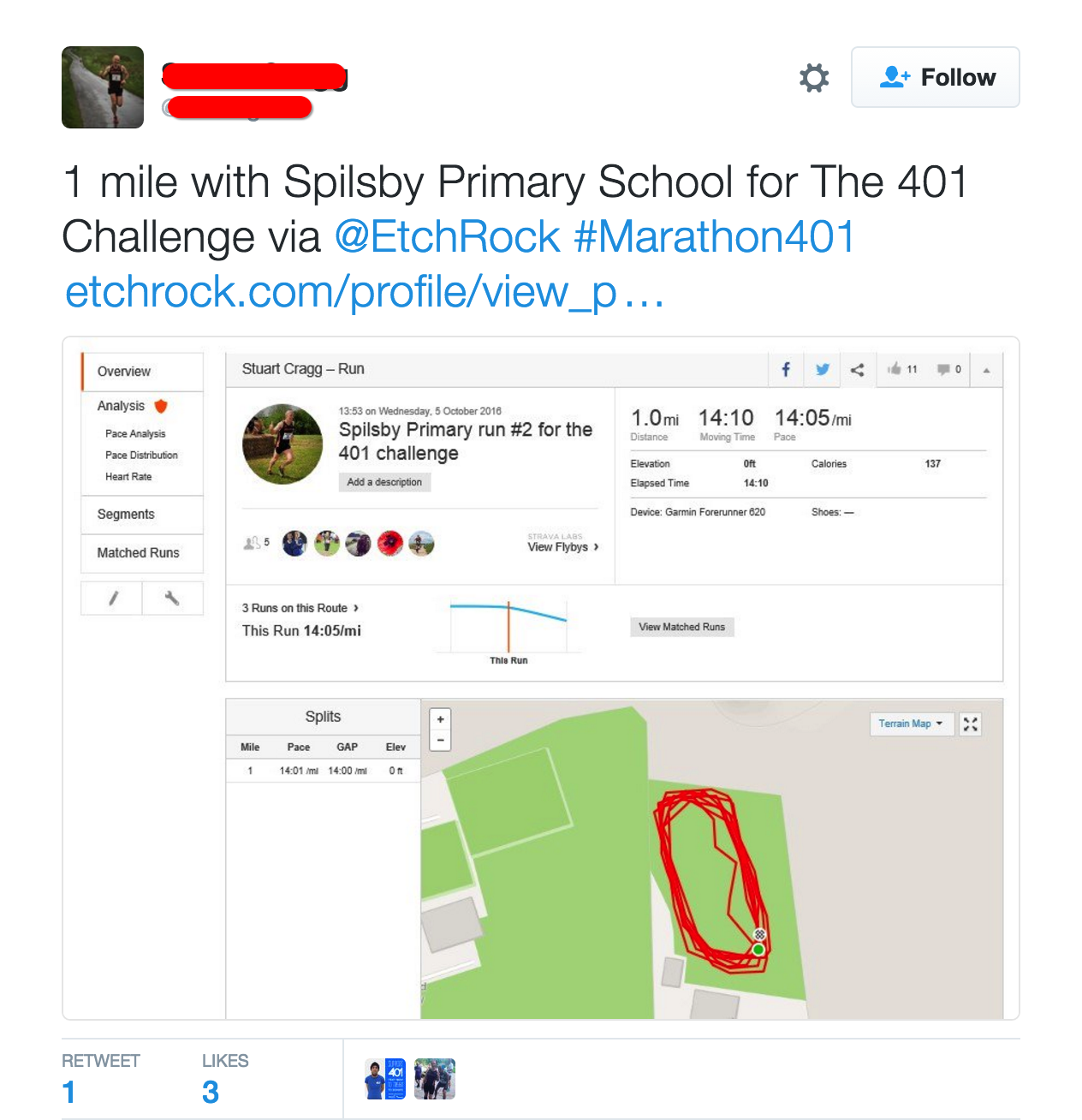 These training cards were great for creating awareness of marathon 401 among participant's individual communities, as evidenced by the 5,127 external visitors that we had come to the Marathon 401 page that had been linked through from participants training cards and shares.
Of course, getting more exposure was always a goal for Marathon 401, so we gave users an easy way to share the training page. They have the option to share the page via Facebook, Twitter & Google plus whist also being able to invite Facebook friends to join the race. These actions resulted in 296 social shares for the Marathon 401 page, which helped contribute to the external visitor count and raising awareness.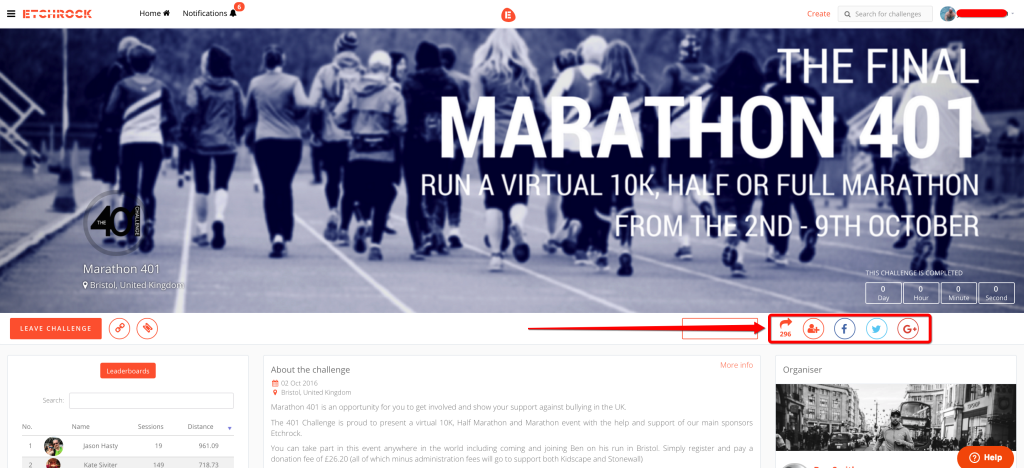 When setting up the tickets on EtchRock, the 401 team gave the runners options of completing a 10k, half or full marathon. This applied to both the live event and the virtual race.
In total, we had 2,331 participants take part in the event out of a maximum 2,500 places. Users logged 3,953 runs on the Marathon 401 training page which helped to the events huge success netting the 401 team around £60k in revenue for both Kidscape and Stonewall.
Best of all, Ben smashed his £250,000 fundraising goal and ended up reaching over £300,000! We are extremely proud to be a part of Ben's story and look forward to working with the 401 foundation in the future!