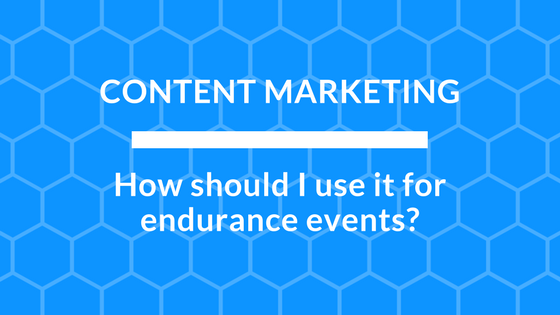 Content marketing – Should I be using it for my endurance event?

Latest posts by Team EtchRock
(see all)
Content Marketing for endurance events
Content marketing has become one of the hottest marketing trends of the past couple of years. But do these techniques work well for endurance event organisers? It's a question we get asked all the time, and in short, we think, yes!
Whilst the common misconception is that content marketing is mainly for B2B businesses, there are plenty of options for event organisers too. Content marketing isn't just about writing a blog either. Having a sound content marketing strategy can add another layer to your race experience and provide your customers with material that will keep them coming back for more.
In this post, we give you five tips to help you develop your content marketing strategy for your endurance event.
1. Segment your message
You put on great events and your customers love it, but are you making the most out of conveying that online? In our blog, 'The five i's of Content Marketing', we talk about 'income'. Your content should ultimately be driving people towards buying a ticket. The big mistake that event organisers are making today is that they aren't segmenting their message.
People that have attended your event are a different audience to those who haven't, and you need to adjust your messaging accordingly. The best way to do this is via email marketing.
Let me give you a simple example from my personal experience. I have subscribed to the mailing list of an OCR company, but I have not yet attended one of their events. I get messages from them telling me about the results of their previous race. As great as this is for someone who took part, it offers me no value.
What this company should have done is, separate the mailing lists of those who have and haven't attended before and delivered different messaging to each. Moral of the story? Know your target audience.
Check out our blog on '5 ways to take your email campaigns to the next level' for a few more ideas to implement into your email content marketing.
2. Education through training
Whether you organise a 5km, 10km or ultra marathon, people are going to be training for your event. One of the best ways to get constant engagement in the build up to race day is to encourage their practice. You're the experts about your event; your customers will listen to your advice on how to train for it.
It gives you the chance at repeat engagement with your customers, which in turn can promote your business, especially if they log their training on social media.
Content marketing is all about providing your audience value. What better value can you provide as an event organiser than helping them get prepared for your race?
With the EtchRock platform, we harness the power of your participant's training and turn it into a powerful promotion tool. Check out our video below to see how we can help.
3. Latest news and results
We spoke about the importance of segmenting your email list in point one. Post race content is a perfect reason to engage with your participants via email. Remember what we said about value? All your content marketing efforts must provide value to the reader, and as a past participant, this certainly qualifies.
What if the recipient has been to your event before but they didn't attend the latest one? This is where you can put a spin on your messaging, and suggest, 'this is what you missed out on'. In essence, you could say this is 'remarketing' to your old participants.
Results, photos and personalised 'congratulations' messages can be a great form of shareable content that your participants will love to share across their social networks. This can result in great promotion for your brand.
4. Enlisting an influencer
Having a social media influencer at your event can pay dividends in the build up, actual event and post-race experience. Look for a high-profile subject in your target audience and see if you can coax them to come along to your event and promote it on their social accounts.
Alternatively, start a working relationship with this individual and find some ideas that would be mutually beneficial. Some thoughts to get you off the ground could be:
-Have the promote your race in the build up on their social media profiles
-Ask them to do a social media 'takeover' of your social accounts.
-Write a blog post event about their experience.
-Reach out to their mailing list and promote your brand.
-Have them produce content throughout the day of your event.
I hear you ask, would this be free? Most likely the answer will be no, but don't be put off by this. Influencer marketing is becoming increasingly common, and at the end of the day, these guys have to make a living too.
Make sure you stay on top of how much you spend and what your ROI could potentially be. The content marketing institute put together this great table, which outlines metrics for you to track your influencer marketing efforts.

5. Make it shareable
Just like every piece of content that you put out, you need to make it shareable. This can be implemented in two ways. First, you need to focus on the actual content that you are putting out. Is it share worthy? Put yourself in your reader's shoes and ask yourself if you would share it across your social networks. If the message is too 'sales like' then people will most likely not share it.
Second, add share icons anywhere possible! Shares of your content not only help in in the promotion department, but it can also help with your SEO. Even when you are sending email campaigns or creating landing pages, make it as easy as possible for people to share.
What content marketing strategy have you used to promote your race successfully? Let us know in the comments below!