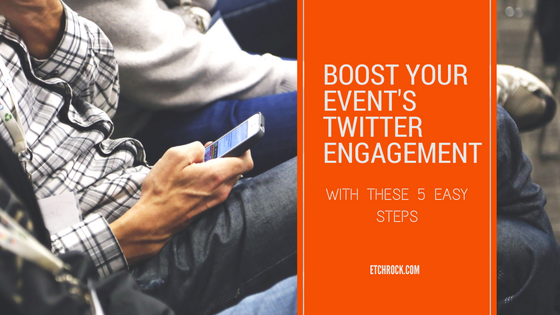 Boost your event's Twitter engagement with these 5 easy steps

Latest posts by Team EtchRock
(see all)
Raise your Twitter engagment with these 5 tips
The Twitter road can be a long one, especially if you take the wrong path. Everyone wants to boost their Twitter engagement but investing time in the right places is paramount if you are going to have success.
Do you find yourself pouring time into creating content, only to find that it is falling on deaf ears? Well here are a few pointers to help you get the ball rolling and start boosting your Twitter engagement.
1. Get with the conversation
Don't expect the conversation to come to you. Unless you are a celebrity or work for a powerhouse brand you need to adopt the mindset of a new high school kid, you need to find friends to talk to.
First off, you need to be where the conversation is. Regardless of what industry you work in, find out where the bulk of the conversation is taking place. Look at your competitors, influencers in your field, see what hash tags they are using and add them to your own posts. Look for publishers who are popular among your target market, share their articles and posts and give your own opinion along with it. Comment on other people's posts & tweets and start to get involved.
2. Make the most…of your post!
Twitter now allows users to post longer tweets after it removed photos, quoted tweets and other items from its famous 140-character word limit. Now, when users add a photo, GIF, video or poll to their tweet, it will not count towards the limit.
Use this to your advantage! Some studies show that a tweet with an image can boost engagement by up to 300%, so start adding them to your posts.
GIF's are becoming increasingly popular and can help you emphasise a point much more easily than with 140 characters, it also makes it much more shareable.
Try and make you posts as brief as possible yet at the same time, try to maximise the use of the 140 characters. Use a catchy bit of text with an image, link & hash tag for maximum effect.
Say more about what's happening! Rolling out now: photos, videos, GIFs, polls, and Quote Tweets no longer count toward your 140 characters. pic.twitter.com/I9pUC0NdZC

— Twitter (@twitter) September 19, 2016
3. Customer Testimonials
Sharing a good experience that a customer has had with your brand is a great way to boost your Twitter engagement. Not only does it shine a positive light on your business or event, but also provides you with a great opportunity to open up a dialogue with potential clients. Get in the routine of asking your customers for their opinion on your product or service, and then share it on your Twitter page.
We love customer testimonials because they ultimately build trust within your community. People can see that others have had a positive experience with your brand and this can help to ease any skepticism that they may have previously held about you. It also allows you sell your brand in a message that isn't your own. Clogging up people's timelines with sales rhetoric about why your brand is the best isn't the way to go when it comes to winning over potential clients. Use testimonials to provide an impartial voice to help pitch your business.
Whilst the use of customer testimonials may not provide a big boost to your Twitter engagement in the short term, it will do in the long run. Turning your brand into an authority online will help your engagement woes exponentially when people see you as an expert in their field.
4. Prioritise Scheduling Posts
The real-time nature of Twitter means that your post can and will get easily lost in the sea of tweets in their homepage. This is why it is important to schedule posts for the times in which cannot post yourself or during peak activity periods. Sites like Hootsuite, Buffer & Postcron have custom built platforms that allow you to schedule your activity.
There are huge amounts of information that you can find on the internet about when and what frequency at which you should post. In our opinion, don't take these as gospel. Use them as a guide and start experimenting yourself. Use trial and error to see what kinds of posts work at certain times.
Try and get in the mind of your target audience and think what messaging they would like to see. If you're a B2B facing brand, don't go scheduling a bunch of tweets for the weekend as the person viewing them won't probably be interested.
Also, don't be afraid to recycle your content. If you have a great piece and it doesn't do too well in the first tweet, schedule the same post for a couple times over the week. Just remember, don't get too spammy with your posts and paste them non stop!
5. Run a competition
One sure fire way to get some quick, guaranteed Twitter engagement is hosting your own competition. Twitter competitions are a highly effective form of generating buzz and engaging with your audience online. Not only can a Twitter campaign increase your followers and traffic to your website, but a well thought-out competition can considerably push awareness of your brand.
Some examples of competitions that you can host include a 'Retweet to win', 'New Follower' or 'Caption this' competition in which a user will interact with you in order to win a prize.
Huge amounts of brands are running competitions to great effect so see what your competitors or influencers are doing and try and put something together.
Don't forget to subscribe to be kept up to date with the latest event management news!
Team Etchrock