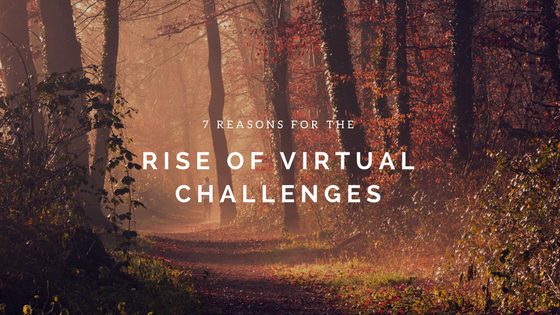 Latest posts by Team EtchRock
(see all)
Why you need to take part in a virtual challenge
In the past couple of years, you will have probably noticed the rise in virtual challenges within the fitness community.
If you're completely new to the concept and not heard of a virtual challenge before, a virtual challenge or race is a fitness goal that can be completed at any location in your own time and at your own pace. Any individual can sign up to a virtual event, complete the goal and is normally sent some form of post race bling that you would receive after competing in a standard event.
But where has the love for this type of challenge come from? Why would people pay for entry to an event that you don't even need to turn up to? In today's blog, we give you 7 reasons why there has been a huge rise in virtual races and why you may want to try one out for yourself.
Race on your own terms
If you're one of those people that doesn't like big crowds, long lines for toilets and general hustle and bustle of live events, then virtual challenges should be right up your street.
You get to train as you would if you were taking on a live event, except that you don't have the stress of the actual race day. Whilst some will baulk at the idea of not being a competitor of a live event, others find it intimidating, especially if you're a beginner.
A virtual race could be the perfect warm up for a follow up live event once you have got your feet a little wet.
Adds an option for those that can't make it on race day
There are some live events out there that add a virtual element to their races for those who potentially cannot make it on race day or would like to take part from overseas.
As an event organiser or a participant, it's a win-win situation. In regard to the organiser, you can sell more tickets without having to alter the logistics of your race day venue and have a higher participation rate. For the consumer, you get to take part in a race with a brand that they love without all the commitments that one would have to uphold for attending a live event.
Everyone's a winner!
You're running for a cause
As with most challenges nowadays, there is a fundraising element attached to events. If you're passionate about a cause, you can bet that there will be a virtual race to support it.
We are seeing a growing number of charities and individual fundraisers creating a virtual challenge or race to support a cause that they are passionate about.
From the participants perspective, it gives the buyer a chance to get fit and take on a new challenge whilst simultaneously donating a cause close to their heart. Proceeds from tickets sales often have high percentages of the price going directly to the charity they are supporting. That being said, be on the lookout for organisers who look to exploit this avenue. Always ask before joining a challenge, 'How much of the ticket sale actually goes to the charity' to avoid being misled.
Very low operating cost
As all of your participants are running or taking part from their own remote locations, you can eliminate most of the overheads that are normally connected to hosting a live event.
Aside from costs of getting medals and race merchandise created, there are no other costs with running your own virtual challenge. As we mentioned above, this is fantastic for charitable organisations that are looking to get mass participation among their supporters.
It gives the organiser flexibility to either drive the cost of entry down or to give that little bit extra to a charitable organisation.
You're still getting the same benefits of training for a normal challenge
By no means, if you're taking on a virtual challenge does it make it any less of an achievement compared to being at a live event. You train in the same way and compete in the same way as you would on race day.
Sure, people can cheat, but they are only cheating themselves. We've found that the majority of people who do take part in virtual challenges really do take it just as seriously as any other challenge. If you're paying for entry to a virtual challenge where you have to hold yourself accountable, one can assume that they are taking it seriously.
There is a great sense of community
Just because one trains in their own location, it doesn't mean they are cut off from a community of support. With EtchRock, on our virtual challenge pages, we have multiple people posting their runs and competing with each other on the live leaderboard.
Whether it's a question that they want to be answered or a little motivation to go out for a training session, the virtual challenge community is an inspiring and uplifting place. If you have people with a similar mindset all working towards a common goal, it's easy to see why.
We all love a bit of bling
Let's be honest here. We all love race medals. There's no better feeling that getting that hard-earned piece of bling at the end of an event. That piece of metal is more than just a souvenir, it has a story behind it. When I look back at my wall of medals, I feel nostalgic and could tell you the work that went behind each one of them.
Virtual medals are no different. The same amount of sweat and hard work went into each one and I am proud to display them alongside their live event counterparts.
If you're thinking about organising a virtual challenge or adding a virtual element to your live challenge, then get in touch or check out how we can help! EtchRock has an array of options available to event organisers, charities and individuals who want to add another dimension to their event experience.
Don't forget to subscribe to be kept up to date with the latest event management news!
Team Etchrock